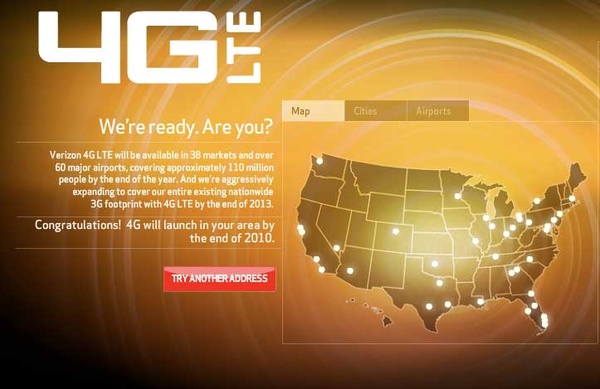 Verizon has priced their LTE 4G data plans this week, a few days before the carrier begins rolling out the fast network in the United States.
The network will be 10 times faster than current 3G speeds from the carrier.
Verizon has made it clear that, while fast, the data plans will not be cheap. A 5GB plan will cost $50 per month, and a 10GB plan will cost $80.
The carrier says it expects users will see real-world down speeds of 5-12Mbps and uploads of 2-5Mbps.
"Beginning Sunday, Verizon Wireless is making the best network even better,"
adds
Verizon CEO Dan Mead.
"Our initial 4G LTE launch gives customers access to the fastest and most advanced mobile network in America and immediately reaches more than one-third of all Americans, right where they live. That's just the start. We will quickly expand 4G LTE, and by 2013 will reach the existing Verizon Wireless 3G coverage area."
At launch, the 4G access will be available through two USB modems only, but smartphones with the capability will hit the market next year.
Verizon expects to rollout the service to 38 cities and 60 airports by the end of the year.
Written by: Andre Yoskowitz @ 1 Dec 2010 18:38