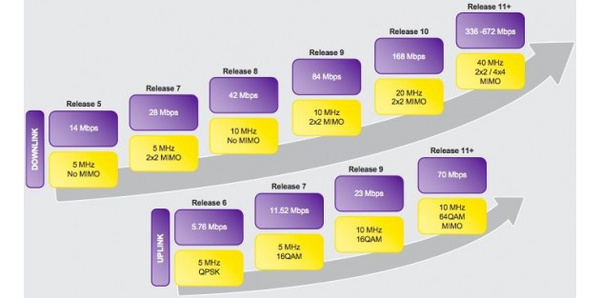 T-Mobile USA and
Nokia
have announced Long Term HSPA Evolution, a new mobile data standard that promises speeds over 650 Mbps.
Commercial deployment of the standard is expected as soon as 2013.
The current
HSPA+
"4G" network offered by
T-Mobile
in the United States offers speeds of up to 21 Mbps, and the carrier says those speeds will be doubled to 42 Mbps next year.
Says T-Mobile CTO
Neville Ray:
"Long Term HSPA Evolution will allow us to enhance our 4G mobile broadband network beyond its current and planned near term capabilities, and provide room for considerable growth and speed enhancements. As customer demand for wireless data increases, we are well positioned to compete based on the speed, breadth and evolution path of our mobile broadband service."
!-- PAGE BREAK -->
The most notable features of the new standard:


-HSDPA Multicarrier evolution: Combines up to eight carriers and provides peak data rates of up to 672 Mbps along with improving spectrum utilization. To overcome operatorsí spectrum fragmentation constraints, HSDPA carrier aggregation enables carriers from more than one frequency band to be combined.

-HSDPA Multipoint transmission: Significantly increases the cell edge data rate by coordinating and combining signals from multiple antennas.

-Dual antenna beamforming and MIMO in uplink: Improves the uplink performance with dual-antenna transmission, doubling the uplink peak data rate and improving the user average data rate by 30 percent with 2 x 2 MIMO/ beam forming. With 2 x 4 MIMO, over 100 percent increase in average user data rates can be achieved due to beam forming gain and four receive antennas in the base station.
Verizon and AT&T are set to rollout their LTE 4G networks starting this month and into next year.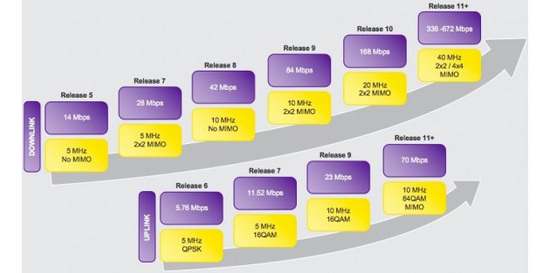 Written by: Andre Yoskowitz @ 15 Dec 2010 21:04