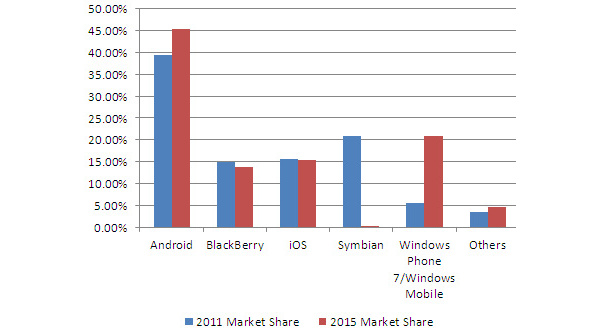 IDC has released their Worldwide Quarterly Mobile Phone
Tracker
numbers this week, and the firm expects the smartphone market to grow 49.2 percent in 2011.
Smartphone shipments will top 450 million this year, up from 303 million in 2010, says the tracker.
Says Kevin Restivo
, IDC senior research analyst:
Overall market growth in 2010 was exceptional. Last year's high market growth was due in part to pent-up demand from a challenging 2009, when many buyers held off on mobile phone purchases. The expected market growth for 2011, while still notable, will taper off somewhat from what we saw in 2010.
The most notable prediction is that Windows Phone 7 will overtake
iOS
and BlackBerry by 2015, while Android remains the clear leader.
IDC says Android will move to 45.4 percent share by 2015, followed by WP7 at 20.9 percent. iOS has peaked, says IDC, and will remain at 15.3 percent in 4 years. BlackBerry will lose share, but remain relevant at 13.7 percent. Symbian will lose all of its current 21 percent share, following Nokia's move to WP7.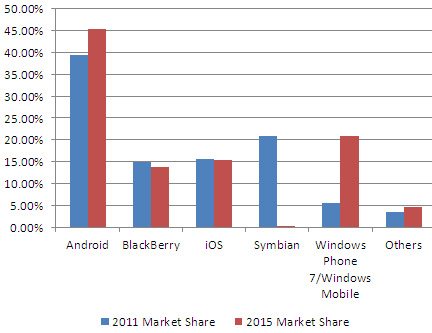 Written by: Andre Yoskowitz @ 29 Mar 2011 15:13