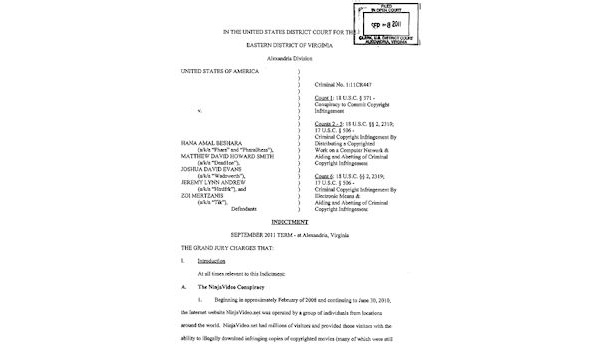 U.S. Immigration and Customs Enforcement (ICE) announces five operators have been charged with conspiracy and copyright infringement crimes.
A federal grand jury in Alexandria, Virginia returned the indictment on Friday. The five individuals stand charged with one count of conspiracy and five substantive copyright infringement counts for their involvement with
NinjaVideo
.
The website operated from February 2008 until it was shutdown in June 2010. In the meantime, the defendants are alleged to have collected more than $500,000 in proceeds, and facilitated millions of dollars in copyright infringement activities.
ICE said on Friday that these efforts are made to
"safeguard the nation's economic security against those who seek to profit illegally from American creativity, innovation and hard work."
The five individuals charged by the grand jury include.
Hana Amal Beshara, New Jersey - Co-Founder, Administrator.
Matthew David Howard Smith, North Carolina - Co-Founder, Administrator.
Jeremy Lynn Andrew, Oregon - Website Security.
Joshua David Evans, Washington - Active Uploader.
Zoi Mertzanis, Greece - Active Uploader.
ICE claims that while NinjaVideo offered movies (often unreleased) and TV Shows for free, they offered greater access for a donation, amounting to a minimum of $25.
At the time of the raid in June 2010, NinjaVideo was visited more than 6 million times per month.
Read Indictment:
PDF
Written by: James Delahunty @ 9 Sep 2011 20:51