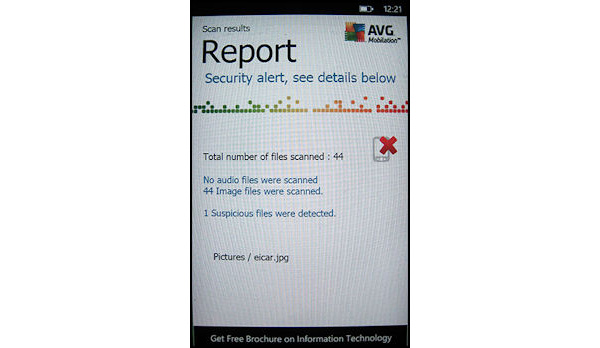 Concerns over data collection force Microsoft to remove app created by one of the world's most popular security software companies.
Questions had already been raised about the necessity of
AVG Mobilation
for
Windows Phone 7
. Firstly, there's no malware to be found on the platform at least yet, and the operating system automatically sandboxes all applications and restricts their access to system files and other applications that are installed.
The only files that the AVG app had access to are media files; music and photos, and so that's what AVG scanned. According to a
blog post from Rafael Rivera
, all it actually does is check the names of the files and see if they match a couple of strings, one in Hebrew. The app is available for free, supported by advertisements.
The lack of need for this application (at least now) is not why Microsoft pulled it from the Windows Phone Marketplace though.
Justin Angel
, a former Microsoft employee,
examined the application more closely
and found that it collects some data about the phone and sends it back to AVG.
The data includes the phone's unique I.D., operator, the e-mail address of the owner and GPS location information. Microsoft removed the App while it investigated the matter.
In response, AVG posted a lengthy blog entry in support of the application. Basically, it argued that since Android has become a major malware target (for which AVG has had A/V software available for before it became such a big target), it stands to reason that Windows Phone 7 will too when its usage rises. However, this ignores the big difference between how apps are vetted for Windows Phone 7 and for Android.
Read AVG's post
here
.
Written by: James Delahunty @ 10 Sep 2011 22:31