According to the results of Nielsen survey, Android dominated US smartphone sales between June and August of this year.
While they estimate only 43 percent of smartphones in the US run
Google
's mobile OS, they accounted for 56 percent of smartphone purchases over the three month period.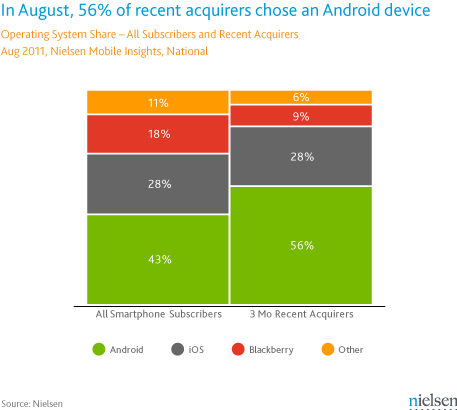 Before you read too much into that statistic, consider that
Apple
moved their annual summer iPhone launch back several months
to October
. If the trend from previous launches is an indication, it's likely iPhone sales will increase significantly as a result.
Of course, the iPhone won't be the only new phone in the market next month.
Samsung
's Galaxy S II is expected to go on sale from AT&T
on October 2
, just two days before the
anticipated date
for the iPhone announcement.
Samsung
has already reported
sales of 10 million
Galaxy S IIs without the US market.
Given the likely boost both phones are likely to give the US smartphone market, especially being introduced to close to Christmas, the next three months could tell us more than the entire rest of the year.
Written by: Rich Fiscus @ 26 Sep 2011 14:27