Apple appears to be having problems meeting demand for the iPhone 4S, at least for Apple Store customers.
Rumors of production problems started circulating last month. It was even suggested they might result in the new iPhone
not being available
until the end of October.
Although the iPhone 4S launched on schedule last Friday, there are signs those rumors may have been accurate.
If you are ordering an iPhone online, the process is the same as always. But if you plan to buy an iPhone 4S from an Apple Store, you will need to reserve it the night before from Apple's website.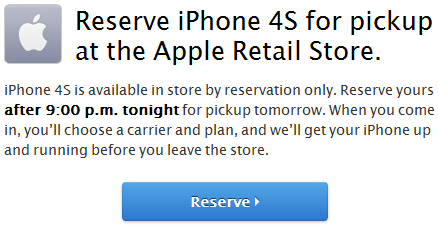 Apple hasn't released any information about the cause of the shortage or how long it is expected to last. It may simply be a side effect of adding 2 new US carriers and an accelerated launch schedule.
Sales of the iPhone 4S over the first weekend
were higher
than for any previous iPhone. This was, in part, due to launching in an unprecedented 7 countries at once and the addition of both Verizon and Sprint in the US.
It probably won't affect sales to upgraders. iPhone users are typically
very loyal
to the brand and a short delay isn't likely to change that.
The more pressing question right now is how long new iPhone buyers are willing to wait. Someone who doesn't own a smartphone, or who is considering a switch from Android, may be less patient.
If this is just a short term problem, supplies may be up to normal in time for the Christmas season. Otherwise it could be a major opportunity for companies like Samsung and HTC to sell Android and Windows Phone handsets.
Written by: Rich Fiscus @ 18 Oct 2011 11:16