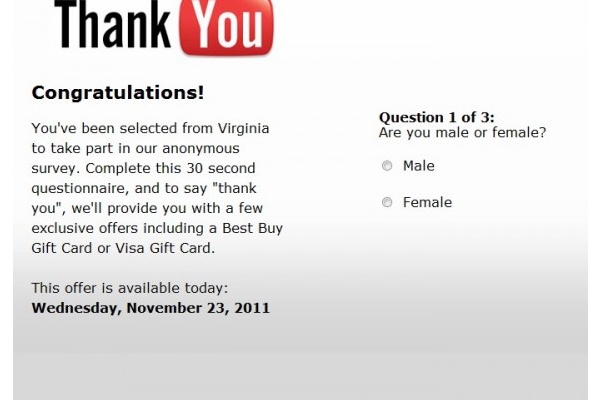 The National Arbitration Forum has transferred so-called "typo domains" into Google's possession after a very quick hearing.
Google filed the complaint (Case No. 1416796) two months ago with the single-member panel.
The names that will now move into Google's possession are youtbe.com, youtub.com, youtue.com, youube.com, and yutube.com.
Each of the domains were being used to steal personal information through sham surveys (as pictured via
Fusible
).
ICANN, the group in charge of Internet domains and regulations, has a policy where domains can be transferred as long as three elements are satisfied. Those are:
1) the domain name registered by Respondent is identical or confusingly similar to a trademark or service mark in which Complainant has rights; and
2) Respondent has no rights or legitimate interests in respect of the domain name; and
3) the domain name has been registered and is being used in bad faith
Panelist Judge Harold Kalina found all three elements to be easily satisfied in this case, which did not even receive any response from the current domain holder.
For now, the pages remain down but will eventually redirect to the real YouTube.com
Written by: Andre Yoskowitz @ 8 Jan 2012 2:15