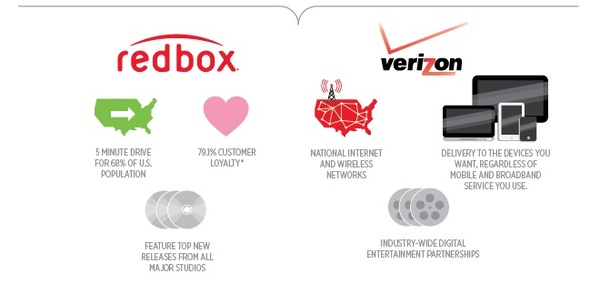 Verizon and Redbox parent company Coinstar have announced today that their oft-rumored
streaming
video, physical media disc joint venture is coming this year.
The service is unnamed, for now, and will not be limited to Verizon subscribers. The service will be national at launch, which is expected to be in the Q3 2012.
Verizon will supply digital streaming and digital video downloads on demand, while Redbox will continue to distribute physical discs through its thousands of kiosks.
The press release says "the download service will be multi-platform, offering video for PCs, phones, tablets,
smart
TVs, consoles - the whole gamut of video-capable devices to which Verizon already delivers some video services through FiOS."
There is no word on content partners for launch, most of which will be revealed later in the year.
Written by: Andre Yoskowitz @ 6 Feb 2012 16:10