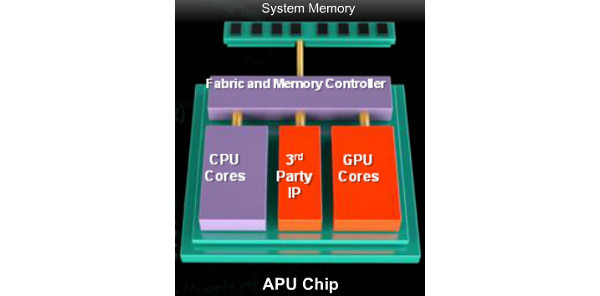 Researchers at North Carolina State University have found a way to improve CPU performance more than 20 percent using a GPU built on the same processor die.
"Chip manufacturers are now creating processors that have a ?fused architecture,? meaning that they include CPUs and GPUs on a single chip,"
said
Dr. Huiyang Zhou
, who co-authored a new paper based on the research. He explained,
"Our approach is to allow the GPU cores to execute computational functions, and have CPU cores pre-fetch the data the GPUs will need from off-chip main memory."
The research
was performed in conjunction with
AMD
, who talked about plans to
increase CPU/GPU integration
in a presentation to analysts last week. Based on that presentation, the techniques identified in this research could be used in AMD processors within the next two years.
Although this research appears to be focused on current PC technology, most likely AMD's Fusion APU, it also has obvious applications for improving ARM processor performance. ARM's SOC (System On a Chip) design emphasizes power efficiency over speed, making it the standard choice for smartphones, tablets, and other mobile devices.
Along with a plan to transition into SOC processor production, possibly including ARM chips, AMD is promoting standardization between different processor architectures. Their HSA, or Heterogeneous Systems Architecture, initiative is intended to standardize the way various components integrated on a single processor interact with each other.
Written by: Rich Fiscus @ 10 Feb 2012 16:06