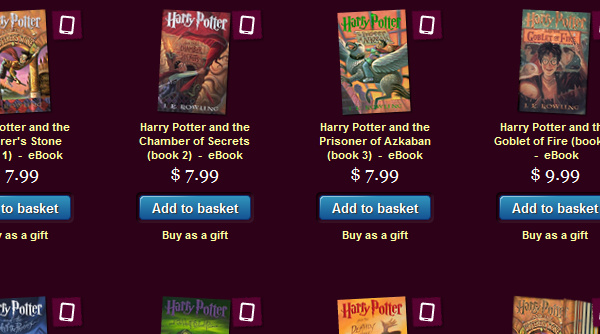 The popular franchise is now available in multiple formats from Pottermore.
Five years after the release of the last novel and almost a year after the release of the last movie in the series, you can now download the highly-anticipated official ebooks for the series.
Last year, author JK Rowling created the Pottermore site with the expectation that ebooks would eventually be made available. The books are now available in
ePub
, Kindle, Nook, Google Play and
Sony
Reader formats.
Once you register at Pottermore, you can buy the first three books for $7.99 each and the last four for $9.99 each, or buy the whole set for a discounted $57.50. After purchase, you can download the books up to eight times, in any choice of formats, from Pottermore. Once it is connected to your Kindle or Nook account, for example, it can be downloaded an unlimited amount of times for those devices.
While pirates have had access to each of the ebooks for years now, many fans will appreciate the formatting of the new books, including original illustrations. Into the future, "enhanced editions" will bring audio and video content.
Buy them here:
Pottermore
Written by: Andre Yoskowitz @ 27 Mar 2012 14:06