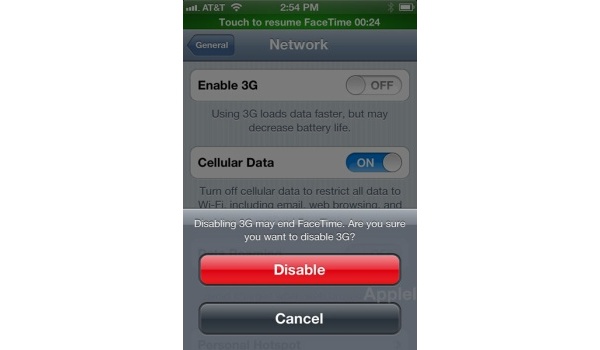 Latest iOS hints that Apple will allow FaceTime over 3G connections.
AppleInsider
(pic source) has highlighted than when running the latest version of iOS, 5.1.1, and using
FaceTime
over Wi-Fi (which is what it is limited to), if you go to
Settings
and turn off
"Enable 3G"
, you get a message indicating that this action might end FaceTime.
"Disabling 3G may end FaceTime. Are you sure you want to disable 3G?"
the OS warns. Disabling 3G doesn't affect FaceTime currently because it is using Wi-Fi anyway, but questions have been raised as to why this warning has been added to iOS when you do try to disable 3G.
FaceTime video chat was brought to the iPhone in 2010 with the launch of the iPhone 4 handset, and has since migrated to Mac and other iOS devices. It is currently limited to use over Wi-Fi only, probably due to demands by carriers concerned about the data use of the feature.
Written by: James Delahunty @ 19 May 2012 21:40