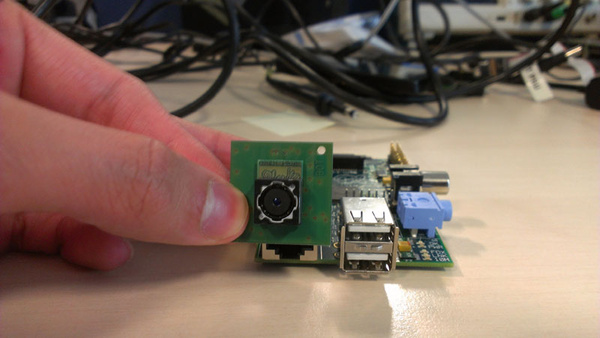 The recently released Raspberry Pi is set to get its very own camera module.
For $35 you get a 3.3-inch wide board with a 700 MHz ARM11, 256MB
RAM
, HDMI-out,
SD
card slot, a USB port,
ethernet
, audio jack and Broadcom VideoCore IV
GPU
. The first 20,000 units shipped in April, while countless thousands of others wait for theirs to arrive.
The team has begun working on accessories for the mini-PC, and has posted the first pictures taken from the prototype camera module. The camera itself connects to some of the pins on the system board.
In prototype form, the creators of the Pi used a 14MP sensor but the final commercial version will certainly use something smaller to save on costs.
Reads the release:
I was sent this image this morning from Gert (not pictured), Naush (right eye and half-moustache) and JamesH (stripy shirt and chin). It's not a terribly exciting photo ? until you realise that it's the first picture ever taken from the prototype camera add-on board we're developing for release later in the year, which will plug into those CSI pins we expose in the middle of the Raspberry Pi.

We may downgrade the super-duperness of the camera to something with fewer than its current 14 megapixels before release; we need to keep things affordable, and a sensor of that size will end up pricey. Before you ask (I know it'll be the first question most of you have), we don't have a price for the camera module yet; we'll need to finalise exactly what hardware is in it first, but we will, of course, be ensuring that it's very affordable.
Of course, if you don't want to wait, you can just plug in a USB-powered webcam you likely already have at home.
Written by: Andre Yoskowitz @ 20 May 2012 14:40