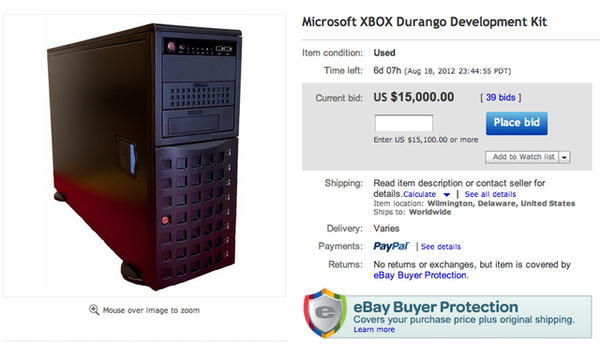 A seller with the nickname 'SuperDae' has listed what he claims to be an Xbox Durango dev kit on eBay today, with bids sending the price through the roof.
Durango is the codename for the upcoming Xbox 8/720/Next, which is expected to be released before the holidays next year.
So far, with 40 bids,
the tower
is selling for $15,100.
There are no details of what is inside, with the seller only saying that it comes with a wired controller and the power supply.
Supposedly, SuperDae is actively watching the bidders, saying
"I only expect people who know what it is to buy it. Otherwise you have no reason to bid."
Microsoft
has not responded and the auction remains active.
If you are interested in bidding, check here:

Microsoft XBOX Durango Development Kit
Written by: Andre Yoskowitz @ 12 Aug 2012 20:05