A new survey shows that a good portion of Americans don't care about 4G or 4G
LTE
.
Via research firm Piper Jaffray, the survey of 3000 U.S. consumers found that 47 percent don't feel that they need 4G, while 26 percent suggested they believe all 4G networks are exactly the same.
15 percent of those polled claimed 4G LTE is the best network technology, with the final 12 percent saying '4G' is.
When asked about which carrier has the best service, 51 percent said they don't know, or believed all to be equal, which is certainly not true.
Verizon has the fastest true LTE network, followed by AT&T. T-Mobile has their fast HSPA+ 4G network, which will be upgraded to LTE next year. Sprint has the slowest data, and has just begun upgrading to a real 4G network.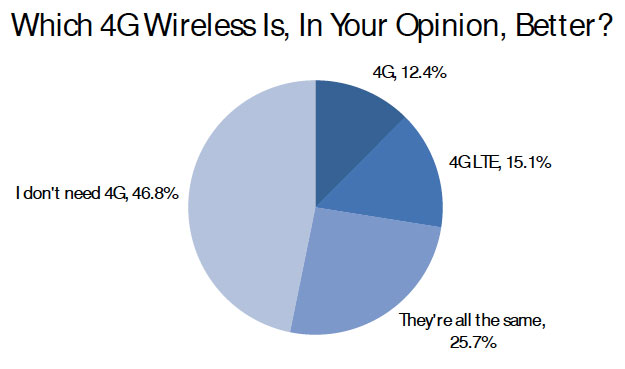 Written by: Andre Yoskowitz @ 25 Aug 2012 16:44