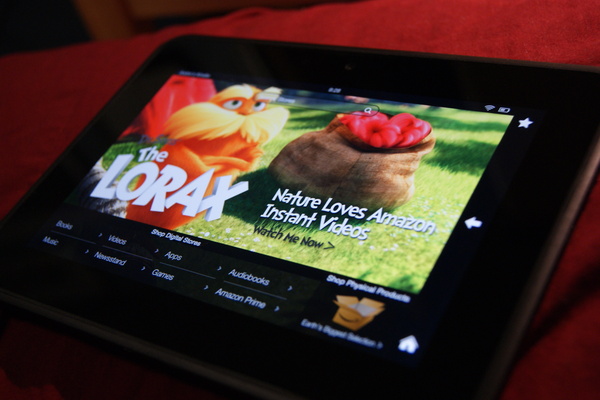 Last week, Amazon unveiled its new line of Kindle Fire tablets, starting with the low-end Kindle Fire for $159 and moving up to its Kindle Fire
HD
8.9 with
LTE
at $400.
Unfortunately, the 8.9 will not be available until late November, so Amazon has teased us with the 7-inch $200 version of the tablet which does not include a mobile data radio.
Unlike the first generation Kindle Fire, which frankly felt like a "beta" test, the new device and its parent company have strived for something more cohesive and with a plan in mind. The tablet is 100 percent Amazon, with very little remnants of
Android
left over; just the way Amazon wanted it.
In this review we will see if Amazon has succeeded in putting together more than just a portal to their content and actually built a contender.
Specs and Design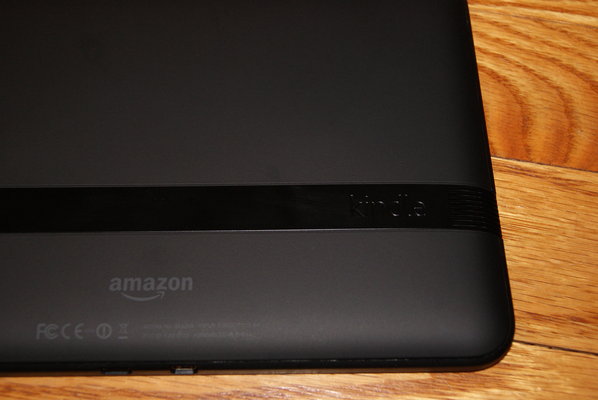 The 7" Kindle Fire HD has an HD display with 1280x800
resolution
along with Gorilla Glass, a huge upgrade from its predecessor.
Additionally, the tablet adds
Dolby Digital
audio speakers and dual-band, dual-antenna Wi-Fi. Under the hood is a 1.2GHz dual-core processor with Imagination PowerVR 3D graphics, 1GB
RAM
and 16 or 32GB of internal storage. Finally, Amazon has added a new front-side camera for chatting although it's quite useless for anything but
Skype
.
On the design side, the Fire HD is a large upgrade from the original Fire, which was bland, to say the least. That being said, however, the Kindle Fire HD is still not the best looking tablet you will find. It is a basic matte black rectangle, with a rubber-esque back that shows off the two speakers and a small Kindle logo in a plastic strip down the center. On the bottom of the device is a Micro USB port alongside a Micro
HDMI
jack. On the side there is a power/sleep button next to the standard volume rocker. On the top is a microphone and the front display houses the front-facing camera for video chatting.
The bezel is far too large, making the display look unnecessarily smaller than it should. Other than that annoyance, the tablet itself is light and is more ergonomic than its predecessor. The tablet does not have the aesthetics of, say, the iPad or the
Asus
Transformer line, but it is not 'ugly' either.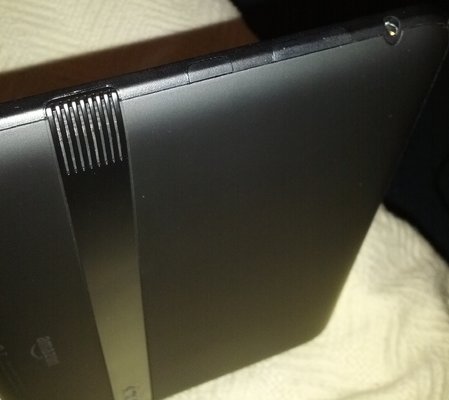 Display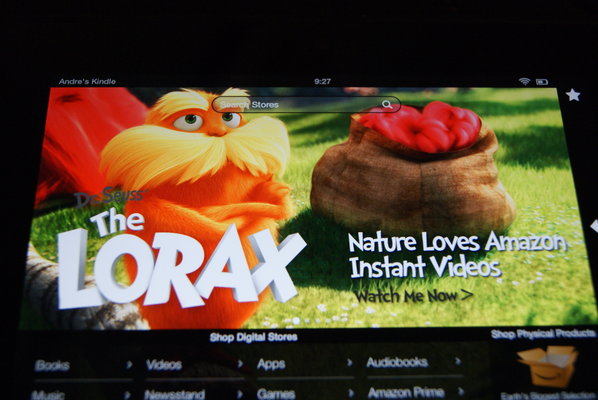 In a word, incredible. The display on the Fire HD is crisp, has great colors, the blacks are black and brightness is great, as well.
The tablet has a nice 216
pixel
density, second only to the latest iPad and its
Retina Display
. The Nexus 7 has an equal PPI but having used both, I can safely say the Fire HD is sharper and offers better colors. Amazon CEO Jeff Bezos talked much about anti-glare of the screen and it does seem to have paid off, with glare being less visible, even in a well-lit room. Overall, viewing angles are very solid, as well.
Amazon's display is the best part of the tablet, and something the company should be proud of.
Performance and Battery Life
The dual-core processor holds up to Amazon's promise of solid horsepower. Playing HD movies through Amazon Prime saw no issues, as did music streamed from the cloud. Scrolling through lists books, magazines, apps, settings and games also worked without a hitch.
With the being said, the Fire HD suffers from the same lag that the original Fire did, most notably when switching quickly between active apps. Opening up new categories (for example, Books, or Shop) will always bring lag that is just non-existent with the Nexus 7 or the iPad. Being that the CPU seems fast otherwise, it appears the issue is with Amazon's operating system itself. Perhaps a
firmware
update into the future will fix some of the lag.
During the launch event, Bezos put A LOT of time into praising the MIMO dual-antenna Wi-Fi, claiming it to be the best on any tablet. From
streaming
HD and downloading music, yes, the Wi-Fi was certainly fast, but honestly felt the same as with any other tablet. The average Kindle user will not tell the difference.
Battery life was as advertised, with mixed usage bringing mixed results. Straight movie viewing (or
TV
episodes) led to around 5-6 hours of battery life while lighter reading or web browsing mixed with some video watching led to 10-11 hours as advertised. Very solid.
Camera and Speakers
The camera, while an upgrade from the no camera option of the Kindle Fire, is really quite useless outside of video chatting. It's almost impossible finding out how to even use the camera outside of Skype.
In my opinion, the speakers were awesome. Loud, clear and with little distortion even at the loudest setting. No complaints on that end.
Software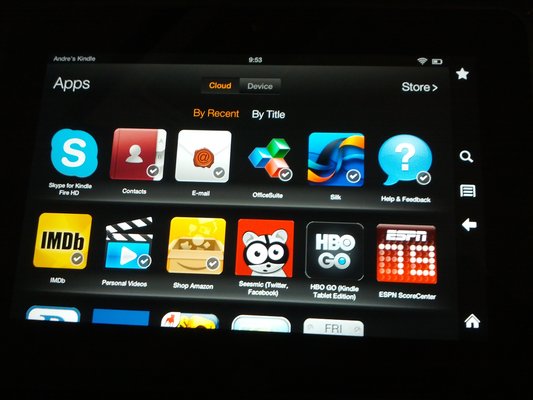 Amazon built the Kindle Fire HD for one reason, to sell content. The device is incredibly well integrated into Amazon's vast ecosystem, and if you are a fan of said ecosystem there is no way you will not like the tablet. The biggest issue, as stated before, is that Amazon's software seems to lead to sluggishness/lag when opening apps. It needs to be fixed, as does the keyboard when browsing using Silk.
Gmail, Hotmail, HBO Go, Facebook and Twitter all have built-in integration, which is great given their popularity.
I will list the new software features here:
Whispersync for Voice
Whispersync for Voice lets customers who own the ebook and (possibly) the audiobook of a title seamlessly switch between both. For example, Amazon says if you are reading a book and then need to drive, Whispersync will sync you right to where you left off in the book to the audiobook and let you listen from there. You will need the Audible app, and it is unclear whether you need to own the audiobook as well or whether there is a deal cut with Audible.
Whispersync for Games
Similar to all other Whispersync features, For Games will allow you to save your place in the game when moving to a new device while also keeping all progress saved in the cloud.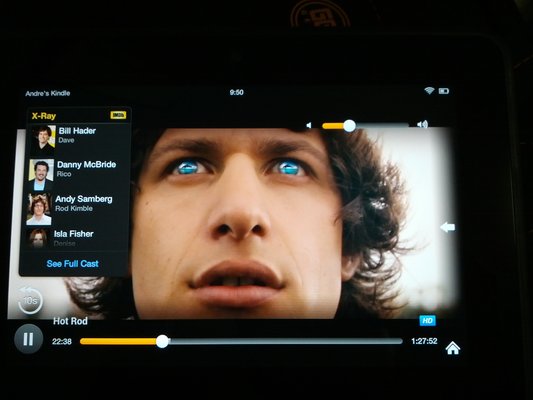 X-Ray for Movies
X-Ray, an Amazon exclusive, directly integrates IMDB into any movie. You can look up any actor in any scene, see what other films any actor has been in, as well as their photos and bios just with one click. This is by far one of the coolest new features, especially if you are a big movie buff, using Amazon's IMDB site to perfection.
X-Ray for Textbooks
A great tool for students, X-Ray for Textbooks integrates the glossary of the book into each page and also "algorithmically assembles related data from Wikipedia and YouTube."
Immersion Reading
This great feature is best explained by Amazon itself: "Together, Amazon and Audible invented 'Immersion Reading,' allowing customers to fuse together printed text and professionally-narrated audiobooks, giving readers the ability to experience their reading with two senses--sight and sound. As the reader views the text of their book on Kindle Fire, text is highlighted as it is professionally-narrated, creating a more immersive experience, as well as deeper learning and comprehension.'
Kindle FreeTime
FreeTime is a reinvention of the age-old parental controls built into most software. Parents can use the tools to personalize their kid's digital media experience. Parents can block access to certain content with a password and also limit screen time when playing games or watching videos. Reading time can be made unlimited.
All-New Email and Calendar
The new devices have integrated
Microsoft
Exchange, while enhancing all email functions. Support for Gmail, Microsoft Exchange, Hotmail, Yahoo and more is built in. Additionally, there is a new calendar app which should be a welcome relief to original Kindle Fire owners.
Ecosystem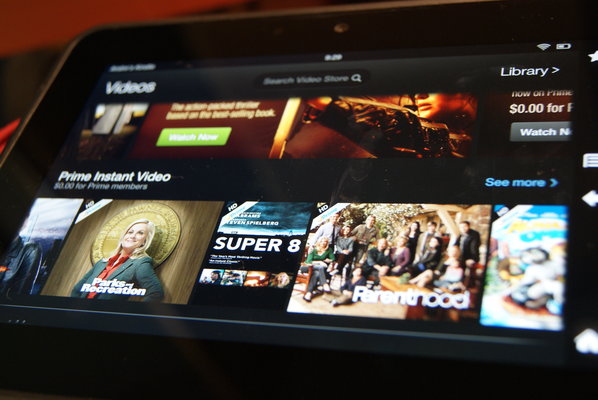 Amazon is one of the "Big 3" when it comes to fully stocked content ecosystems. When compared with
Apple
and Google, Amazon shines in regards to retail, ebooks and the awesome Amazon Prime streaming library that comes free with an Amazon Prime subscription. Prime costs $79 per year and gives Amazon users free two-day shipping on most items and discounted $3.99 one-day shipping on many items, as well. Furthermore, Prime now comes with the streaming library, which has 25,000 TV episodes and movies, directly rivaling Netflix.
As stated, the Amazon ecosystem integrates flawlessly and Amazon has invested a lot in making sure that your books, videos, apps, games and music all sync between your devices without issue. It works here. Books I read in part months ago were instantly in my carousel after logging in, right on the page I left them.
The only real downside here is the App store, which still lacks the full selection seen in the Nexus 7 or the iPad. Amazon has been improving the Store, however, but it still needs serious work.
As for the ads on the lock screen? They are about as unobtrusive as humanely possible, and I didn't even notice them after a while. In fact, I was able to get $5 free in Amazon
MP3
credit from one.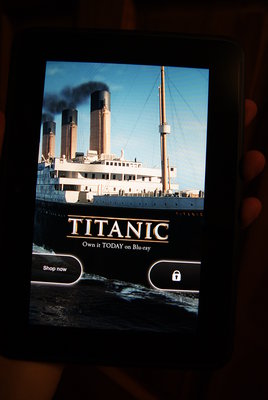 Final Thoughts
Amazon has really connected with their latest device, although it is not without its flaws. If you are an Amazon fan, you will love the Kindle Fire HD. The Prime streaming library is ever-improving and the Kindle reader is the best ebook reader on the market. If you like to rent or purchase digital movies, Amazon's selection is second to only Apple, and far ahead of Google. The price is certainly right, at $199.
As a media consumption device, the Kindle Fire HD most likely tops the list. As a general tablet, however, it falls flat in many respects. The OS can be sluggish/laggy, the camera is useless, and the Silk browser does not hold up to Google's Chrome.
This leads me to a dilemma for the tablet itself. During my time with the device, I watched more movies and listened to more music than I ever have before on a tablet. Amazon also makes it unbelievably easy to purchase content and get it quick, almost scarily so. X-Ray is, for lack of a better word, awesome. On the other hand, I almost completely avoided the Web browser and the App Store, instead choosing to initiate such tasks through my Jelly Bean-packed
Galaxy Nexus
.
There is no argument, the Kindle Fire HD has a gorgeous screen and is ideal for media consumption. Being a Prime member is also a strong incentive to try the tablet out. However, as a tablet that fulfills all the portable needs of this writer, Amazon is not there just yet.
Specs 7/10
Design 7/10
Display 10/10
Battery Life 8.5/10
Performance 8/10
Software 8/10
Ecosystem 9.5/10

Total: 8.28/10
Written by: Andre Yoskowitz @ 15 Sep 2012 1:02