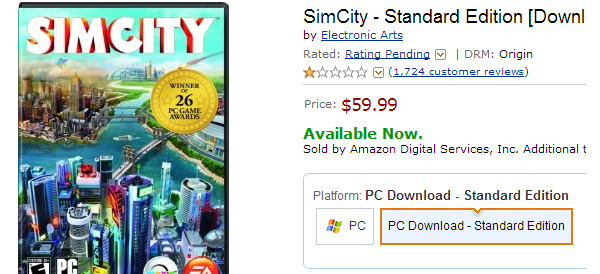 Earlier this month, EA released its newly updated 'SimCity' title to critical acclaim.
However, the consumer feedback at launch was less than stellar (that is being extremely generous) due to the game's "always-on"
DRM
requiring a user be connected to the Internet and logged in to EA's Origin at all times to play, even in single player mode. The load on EA's Origin servers meant most players that put down $60 to download the game were unable to even log in or try their new game for a day or two.
Due to the backlash, EA announced on March 9th that they would be offering a free game to all buyers of the game, downloadable via the Origin digital distribution store.
Today, those games are available. Reads the
full release
:
Our SimCity Mayors are incredibly important to the team at Maxis. We sincerely apologize for the difficulties at launch and hope to make it up to you with a free PC game download from Origin.

Starting today, every player that has activated their copy of SimCity will receive an email that will give directions on how to redeem this offer, and you can also find more information on our FAQ. We'll be opening up the redemption portal country-by-country so some of you may see it a little sooner than others. The portal will be live worldwide for everyone to select their game by March 22. We don't want any of you to miss out on your free game, so please note that you must register your copy of SimCity before March 25, 2013 at 11:59 PM PDT and you must claim your free game by March 30, 2013 at 11:59PM PDT.

At Maxis, our studio values dictate that we innovate and create something that is quirky, complex and challenging. Sometimes this bites us in the butt, but our servers are green and we're seeing record numbers of players all online and having a great time.

Here is the list of games that you will be able to choose from once you are able to redeem. It's a great list of games across the whole EA portfolio, so pick one and add it to your Origin library on us!

Battlefield 3 (Standard Edition)
Bejeweled 3
Dead Space 3 (Standard Edition)
Mass Effect 3 (Standard Edition)
Medal of Honor Warfighter (Standard Edition)
Need For Speed Most Wanted (Standard Edition)
Plants vs. Zombies
SimCity 4 Deluxe Edition
We're getting great feedback from our fans and know that many of you are having fun and exploring this whole new expression of SimCity. We're humbled by your patience and passion for the game. Thanks for building something very special with us, together.
Written by: Andre Yoskowitz @ 18 Mar 2013 18:48