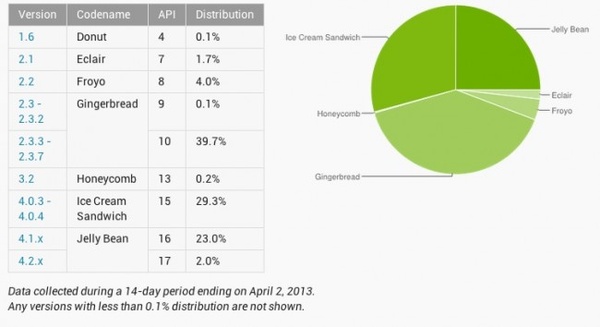 Google has released their early April OS version share update, and
Android
4.x saw a nice boost from earlier in the year.
Jelly Bean
, versions 4.1.x and 4.2.x, are now on 25 percent of all Android devices, jumping from 16.5 percent last month.
Gingerbread (version 2.3.x), is still on 39.8 percent of devices, followed by Ice Cream Sandwich (4.0.x) on 29.3 percent and all other versions combining for 6 percent.
The Android Devs say the huge jump was most likely due to a new method of calculating the figures. The numbers were formerly pulled from devices that checked into Google servers but now (and moving forward) will be calculated by visits to the Google Play Store.
Reads
the post
:
"The new device dashboards are based on the devices of users who visit the Google Play Store (rather than devices that have checked-in to Google servers). As a result, the dashboards more accurately reflect the users most engaged in the Android and Google Play ecosystem--and thus most likely to download and use your apps."
Written by: Andre Yoskowitz @ 3 Apr 2013 19:51