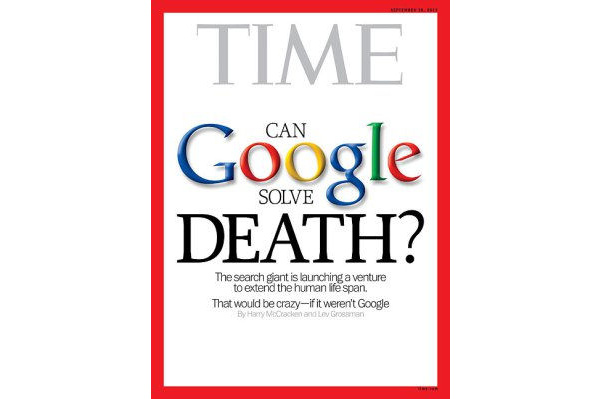 Google has announced the formation of Calico, a new company that will focus on human longevity, health and well-being, and particularly on diseases and the challenges faced from the aging process.
The new company will be headed up by chief executive
Arthur D. Levinson
, who is Chairman and former CEO of
Genentech
and Chairman of
Apple
.
Specifics about
Calico
are few and far between, but the upcoming September 30 edition of TIME magazine features a provocative cover asking;
"Can Google solve DEATH?"
The issue will profile
Larry Page
and this new venture.
One of the challenges for Calico, it seems, is to analyse how resources should be used on health research to get the best results. Page points out to TIME magazine that with all the exceptional amounts of money spent on cancer research, curing cancer would only add
approximately three years
to the average life expectancy of human beings. Of course, there are reasons why cancer gets so much attention, it affects us all at some point in our lives through our own health or the health of family and friends.
There are other efforts under-way too that seek to unravel the inner-workings of age-related illnesses and hopefully find ways to drastically delay the effects, halt, or even reverse them. The
SENS Research Foundation
is an example, also based on Mountain View.
Despite taking a new role as CEO of Calico, Levinson will continue in his role as Chairman of Genentech, Chairman of Apple and a director of Hoffmann-La Roche.
"Illness and aging affect all our families. With some longer term, moonshot thinking around healthcare and biotechnology, I believe we can improve millions of lives. It's impossible to imagine anyone better than Art--one of the leading scientists, entrepreneurs and CEOs of our generation--to take this new venture forward,"
said Google chief executive Larry Page.
Apple chief executive
Tim Cook
also gave his nod of approval to the project, and to the appointment of Levinson to oversee it.
"For too many of our friends and family, life has been cut short or the quality of their life is too often lacking. Art is one of the crazy ones who thinks it doesn't have to be this way. There is no one better suited to lead this mission and I am excited to see the results,"
Cook said.
Levinson himself also spoke of his excitement as his new role.
"I've devoted much of my life to science and technology, with the goal of improving human health. Larry's focus on outsized improvements has inspired me, and I'm tremendously excited about what's next.
"
Written by: James Delahunty @ 18 Sep 2013 18:47