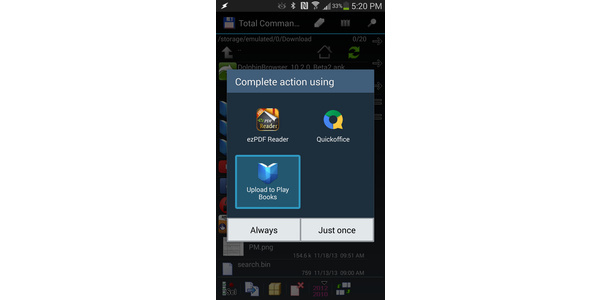 Google Play Books has just updated to version 3.1.17, bringing with it a major feature fans have been asking for for over a year; native uploading from your mobile devices.
With the update, you can directly upload your
EPUB
or
PDF
files to your Books accounts, without having to log in to the website and doing it that way.
Open the book from your file manager or email, and a new option will be to "Upload to Play Books."
In testing the service out, Google Play Books had some issues with some PDFs, saying it could not display the books but one EPUB I tried worked just fine. Could be a work in progress.
Here is the rest of the
change log
:
Books open more quickly and smoothly.
Upload EPUB or PDF files to your library from your phone or tablet. From email or Downloads, touch the file to open it and choose Upload to Play Books.
Improved look and feel of highlights and notes.
Lower brightness settings, for better reading in low light.
Read any book in landscape view.
Dismiss recommended books in Read Now.
Additional improvements in performance, stability and accessibility.
Written by: Andre Yoskowitz @ 11 Dec 2013 12:55