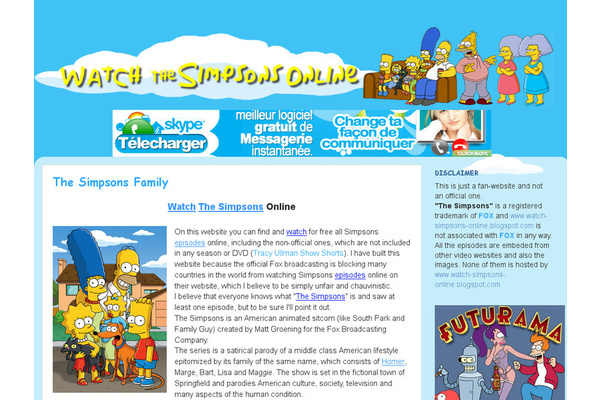 A Canadian man who was accused of running
streaming
websites allowing users to watch "
The Simpsons
" and "
Family Guy
" illegally online, has been fined $10.5 million in statutory and punitive damages.
The websites, "Watch The Simpsons Online (WTOS)" and "Watch Family Guy Online," launched in 2008 and lets visitors stream the shows via embedded media players using external video sources including Megavideo and other. The sites did not host the infringing content but made it easier to access.
Altogether, the sites saw about 87 million visitors and had drawn the ire of Fox, the
MPAA
,
WIPO
and more. In October 2013, Fox filed a copyright infringement lawsuit in Canada, and the site's admin had his house raided later that month. The site admin could not afford to try the case against Fox and the case was resolved in his absence.
"The Judgment awards $10 million [CAD] for statutory damages, $500,000 for punitive damages and fixed/assessed solicitor client costs of $78.573.25 (in addition to an earlier cost award of $107,665.55),"
read a statement from Fox's attorneys (
via TorrentFreak
).
"The significant judgement in this case points up the risk courted by those who engage in internet piracy, in particular for commercial purposes. The Federal Court considers that such activities warrant significant assessments of statutory damages, in this case $13,888.88 per work infringed, and that such misconduct is also deserving of substantial awards of punitive damages to achieve the goal of punishment and deterrence of the offense of copyright infringement."
The admin has filed for bankruptcy but says Fox continues to press for the money while hounding him and his family:
"Fox are pursing for the money and they are doing so as hard as they possibly can. They've ruined my life and continue to do so as long as they don't leave me and my family alone. As it's been referenced by a lawyer: 'they are killing a fly with a nuke.'"

"This experience was the worst thing I could possibly imagine, Fox takes no mercy when destroying your life as you once knew it and then begins to drag your new life down as much as possible as well. I don't wish this upon anyone and simply wish the dinosaurs would just give their consumers what they want -- which is to be able to stream their videos online easy, fast, worldwide."
Written by: Andre Yoskowitz @ 5 Jan 2014 11:24