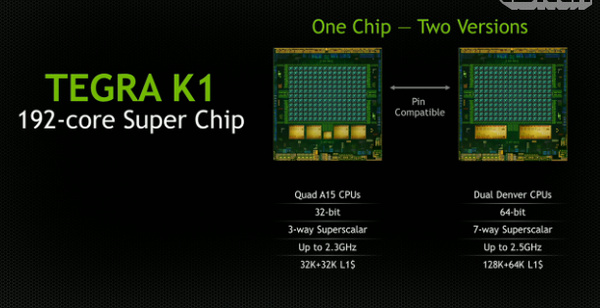 Nvidia CEO Jen-Hsun Huang took to the stage this morning to unveil the company's new "super chip," the Tegra K1 and its 192 CUDA cores.
A successor to the Tegra 4 chip, the K1 integrates a CPU,
GPU
and memory controller and can be used in 4K televisions, consoles, cars and the standard tablets/smartphones.
The graphical capabilities of the
SoC
are supposed to be incredible, with one released video (below) showing the chip easily render Unreal Engine 4. The 192 cores surpass the 72 cores of the Tegra 4, and the company says that the Kepler GPU of the K1 "has more raw computing power than the PlayStation 3."
There will be two versions of the Tegra K1 available: a 32-bit quad-core
ARM
Cortex A15 and a more powerful 64-bit custom dual-core ARM CPU that is built by Nvidia. The A15 model can clock in at up to 2.3GHz while the 64-bit model can top out at 2.5GHz.
32-bit models will be powering
Android
devices in the first half of the year and the 64-bit models will be powering devices by the Q3.
Written by: Andre Yoskowitz @ 6 Jan 2014 21:41