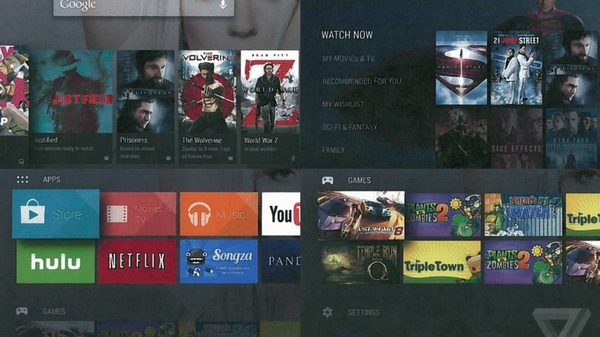 Google appears to have moved on from their failed
Google TV
endeavor with a new TV interface that should make fans of content very happy:
Android
TV.
A new report from the Verge, citing exclusively obtained documents and pictures, claims Android TV is already in the works, with video app providers already building for the platform.
"Android TV is an entertainment interface, not a computing platform,"
writes Google in the documents.
"It's all about finding and enjoying content with the least amount of friction." It will be "cinematic, fun, fluid, and fast."
While Google TV tried to change how we watch TV and content, Android TV will just make it easier to find what you are looking for, using the Google formats popular to a billion Android device owners.
The platform will rely on simple TV apps (Netflix, Amazon, Hulu Plus, Crackle, VUDU, Plex and plenty more) and scrolling cards (think Google Now) that show off apps, movies, games, TV, etc.
A remote control with a simple D-Pad allows you to scroll through the content, which will include curated suggestions. Each category will have its own up/down/left/right options. Additionally, the controller will have "enter," "home" and "back" buttons for navigation and in the future there will be game controllers similar to Amazon's newly unveiled Kindle Fire TV.
Finally, Android TV will support voice search and voice notifications, just like the Kindle Fire TV. Pricing will of course be important, as will availability, but there is little known on that front at this time.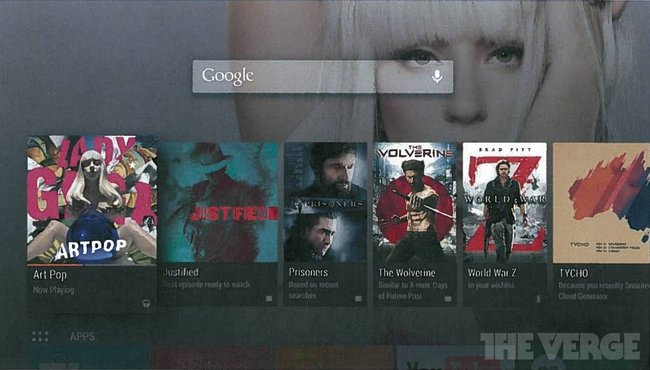 Source:
Exclusive: this is Android TV The Verge
Written by: Andre Yoskowitz @ 5 Apr 2014 19:53