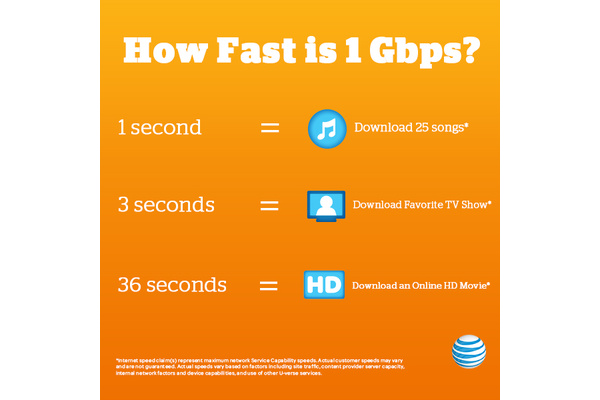 AT&T is preparing a true rival for Google Fiber, showing off potential launch sites for expanding their
gigabit
speed fiber Internet service, GigaPower.
The service is currently only available in Austin and has been announced for Dallas, Winston-Salem and Raleigh-Durham.
With today's announcement, the company has now identified 21 new candidate metropolitan areas including: Atlanta, Augusta, Charlotte, Chicago, Cleveland,
Fort
Worth, Fort Lauderdale, Greensboro, Houston, Jacksonville, Kansas City, Los Angeles, Miami, Nashville, Oakland, Orlando, San Antonio, San Diego, St. Louis, San Francisco, and San Jose.
"We're delivering advanced services that offer consumers and small businesses the ability to do more, faster, help communities create a new wave of innovation, and encourage economic development,"
said Lori Lee, senior executive vice president, AT&T Home Solutions.
"We're interested in working with communities that appreciate the value of the most advanced technologies and are willing to encourage investment by offering solid investment cases and policies."
Google Fiber currently offers downloads as fast as 100 MB/s, over 20 times faster than high-end cable connections, for just $70 per month.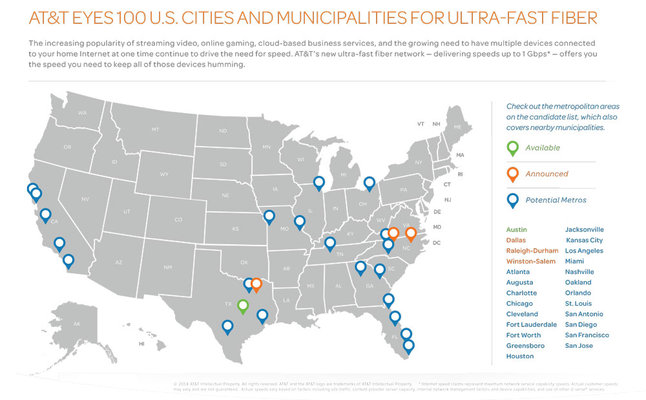 Written by: Andre Yoskowitz @ 21 Apr 2014 21:38