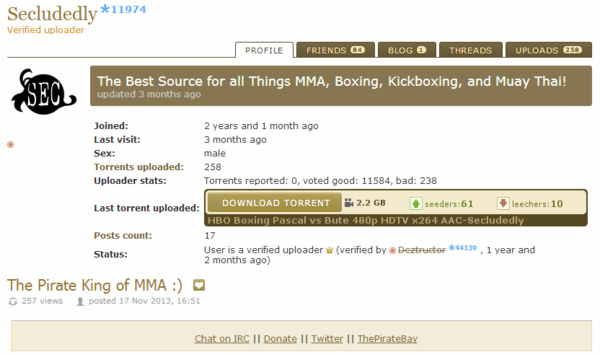 UFC parent Zuffa has sued a major
torrent
uploader, seeking $32 million in damages.
Going by the online handle "Secludedly," the uploader allegedly uploaded 124 UFC events to popular sites like The Pirate Bay and KickassTorrents. Zuffa has accused the man of copyright infringement, fraud, breach of contract, and more.
Steven A. Messina, aka Secludedly, is a 27-year-old from Staten Island, New York, is one of three defendants of the suit, as well as an unknown business entity.
"Defendants have, on over 124 occasions, used the torrent websites known as kickass.to and thepiratebay.se to upload, distribute and publicly display the Broadcasts to the users of said websites,"
the lawsuit states. Secludedly also accepted PayPal donations for his work, thus profiting off the copyright infringement.
Seeking damages of $150,000 per infringement, the company also alleges that the uploader violated the Federal Communications Act willfully, and is asking for an additional $110,000 per infringement. The total is $32.2 million.
"Defendants, wishing to use Plaintiff's Broadcasts for their own commercial gain, surreptitiously gained access to Plaintiff's Broadcasts by purchasing the programming through their satellite TV provider, without proper authorization, at residential rates, and subsequently copying the Broadcasts and uploading them to the users of the websites known as kickass and thepiratebay.se
" adds the suit.
The final count is for breach of contract, since the uploader broke the terms and conditions of the purchased PPV events.
Source:
TorrentFreak
Written by: Andre Yoskowitz @ 4 May 2014 0:17