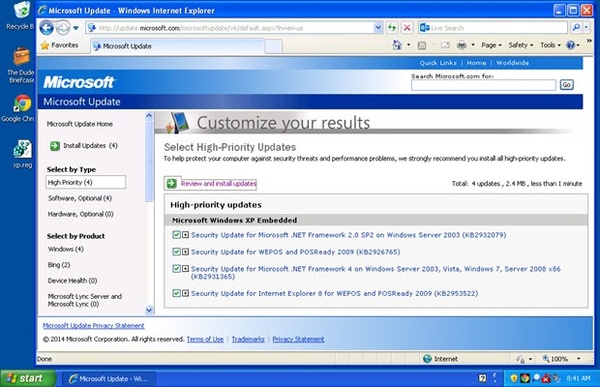 If you are one of millions who really, really, really do not want to upgrade from the ancient Windows XP operating system, a simple registry hack will give you the ability to continue getting updates, although with significant risks.
With a quick addition to the registry, your XP system will look like it is Windows Embedded POSReady 2009, which allows for five more years of updates.
Microsoft
was quick to respond, stating:
"We recently became aware of a hack that purportedly aims to provide security updates to Windows XP customers. The security updates that could be installed are intended for Windows Embedded and Windows Server 2003 customers and do not fully protect Windows XP customers. Windows XP customers also run a significant risk of functionality issues with their machines if they install these updates, as they are not tested against Windows XP. The best way for Windows XP customers to protect their systems is to upgrade to a more modern operating system, like Windows 7 or Windows 8.1."
If you are still interested, create a text file and give it a .reg extension. Add the following to the document (this has not been tested by Afterdawn and is also 32-bit only):
Windows Registry Editor Version 5.00
[HKEY_LOCAL_MACHINESYSTEMWPAPosReady]
"Installed"=dword:00000001
Double click the file in Windows
Explorer
to run it. You should then be able to run Windows Update manually to see any available updates.
Source:
ZD
Written by: Andre Yoskowitz @ 31 May 2014 13:39