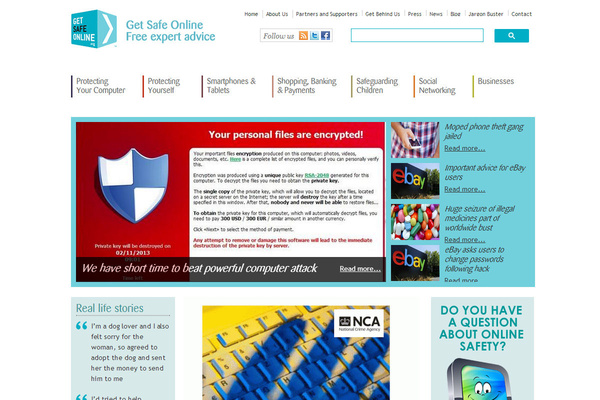 UK's Get Safe Online website collapsed this week under heavy traffic after Brits were urged to visit it and protect themselves from the GOZeuS threat.
After a
US-led international effort to significantly disrupt the Gameover ZeuS botnet
was reported in the media, the UK's cybercrime cops warned the country that it had around two weeks to clean up infections of the nasty malware before cybercriminals could regain control.
Brits were told to visit the Get Safe Online website, which is partially government-funded and also supported by private firms including PayPal and Microsoft.
However, almost immediately after the news broke, the Stay Safe Online website crashed under heavy demand and was still struggling on Wednesday morning. Chief Exec
Tony Neate
apologized for the embarrassing downtime, and said the site has since quadrupled its capacity to deal with demand.
"It's important for people to realise that this has been a learning curve for us,"
Neate said.
"We're looking at what we can do to make sure this won't happen again. We're sorry. I've had no sleep for two days."
The UK's National Crime Agency had previously warned Brits that they have approximately two weeks (now around 10-11 days) to protect themselves from the thread posed by GOZeuS. If you are concerned and would like to check if you are affected, you can find
Gameover ZeuS detection and removal instructions here
.
Sources and Recommended Reading:
Apology for crashed Get Safe Online anti-hack site: www.bbc.com/news
Game Safe Online - Free Expert Advice: www.getsafeonline.org
Written by: James Delahunty @ 4 Jun 2014 11:27