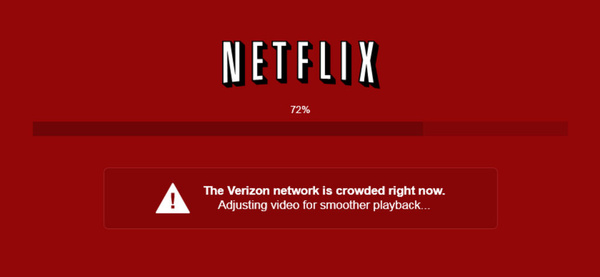 If you run into trouble with Netflix streaming in the United States, Netflix will now let you know exactly who is to blame: your provider!
An image tweeted by Yuri Victor of Vox Media shows how Netflix identified Verizon's network as the problem when it had to adjust video settings for smoother playback. A similar message is reportedly shown when AT&T subscribers run into streaming problems with Netflix.
"The Verizon network is crowded right now,"
the message informs the likely-irritated viewer.
Netflix wants to be clear with its assertion that Internet Service Providers are the ones responsible for providing adequate bandwidth so that paying subscribers can use services like theirs.
It is currently fighting against proposals that would allow ISPs to offer faster lanes to services like Netflix for a fee, and has already had to agree to pay ISPs to ensure that subscribers have the best experience possible.
Netflix had visibly suffered on Comcast's network recently, and recovered almost immediately after agreeing to pay the service provider. This was highlighted brilliantly by comedian John Oliver in an
epic viral rant aimed at the FCC and cable companies in the United States
over the weekend.
Sources and Recommended Reading:
Netflix is making sure customers know whom to blame for slow, grainy video: qz.com
Pic Source: twitter.com/yurivictor
Written by: James Delahunty @ 4 Jun 2014 8:54