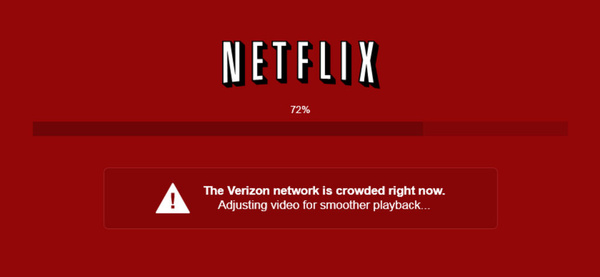 Verizon has turned to legal threats against Netflix as the relationship between the two continues to sour.
Yesterday it emerged that Netflix had identified Verizon as the culprit for video streaming problems in error messages shown to subscribers. A shot of one of these error messages was tweeted by Yuri Victor, a Vox journalist, and was immediately picked up by the media.
Verizon didn't take long to respond, accusing Netflix of engaging in a PR stunt that was deliberately misleading, and of using its subscribers as pawns in business negotiations and regulatory matters.
Today the slipping relationship between the pair has gotten even worse as Verizon sent a cease and desist letter to Netflix. The letter was sent to David Hyman, Netflix council, and it demands that Netflix immediately halts providing such notices to subscribers.
It goes on to demand that Netflix provide evidence and documentation to demonstrate that Yuri Victor's below par service from Netflix was caused by congestion on the Verizon network, and that Netflix provide a list of all customers it has displayed the message to. Verizon expects all of this information within five days.
You can read the cease and desist letter at:
www.docstoc.com
Re/code published a response from Netflix
later.
"This is about consumers not getting what they paid for from their broadband provider. We are trying to provide more transparency, just like we do with the ISP Speed Index, and Verizon is trying to shut down that discussion,
" said Netflix spokesman
Jonathon Friedland
.
Sources and Recommended Reading:
Verizon Threatens Netflix With Legal Action Over Congestion Message: recode.net
Letter to David Hyman.pdf: www.docstoc.com
Netflix visibly blames ISPs for streaming issues: www.afterdawn.com
Verizon: Netflix' PR stunt is deliberately misleading: www.afterdawn.com
Written by: James Delahunty @ 5 Jun 2014 19:11