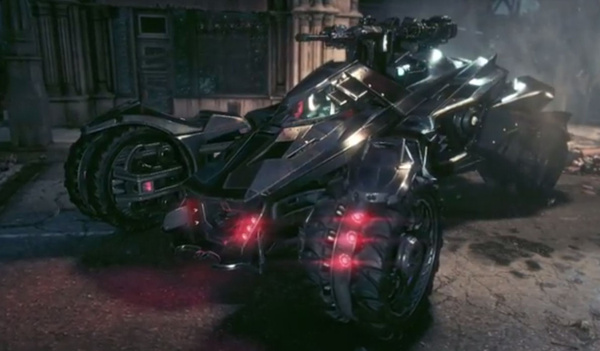 A new video has been released showing the Batmobile's transformation ability in the upcoming Batman: Arkham Knight, dubbed "Battle Mode."
Batman: Arkham Knight
was recently 'delayed' until 2015. The next title in the Arkham series picks up after Batman: Arkham City, released in 2011, and features nemesis Scarecrow as he attempts to organize Gotham's criminal elements against Batman.
The feature of the new game getting most attention is the
Batmobile
. Arkham Knight will be the first game in the series that allows you to drive the Batmobile around Gotham City and use its extensive capabilities for Urban pacification.
Some observers have likened it more to a
"tank"
considering its explosive power. In this short demo video alone, we're shown a 60mm cannon ('Kinetic energy penetrator'), a Vulcan gun that fires armor-piercing incendiary rounds intended for tanks and aircraft, a missile barrage that can simultaneously target up to six hostiles and a riot suppressor that fires non-lethal rounds.
Wow, that's quite a lot of fire-power for a man who doesn't kill.
Written by: James Delahunty @ 7 Jun 2014 19:08