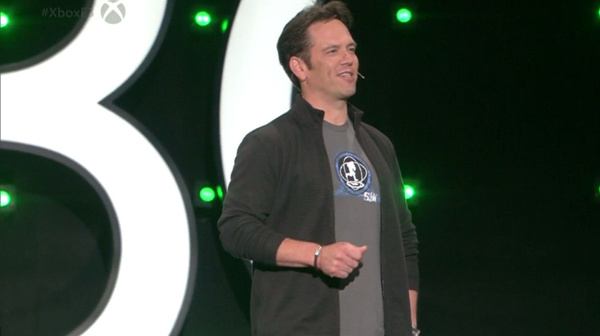 Microsoft's head of Xbox, Phil Spencer, deserves credit for bringing Xbox One back to gaming and putting the focus on the customer.
Microsoft's conference today at E3 was notably different from past Xbox One media events, in that it dedicated all of its time to one very important factor: games. From start to finish, Microsoft's press briefing was filled with games, games and then more games.
When Phil Spencer took over as head of Xbox, he was facing an uphill battle. Microsoft had a $500 next-gen console on the market, while its rival Sony had a more popular console for $100 less. Fans were still annoyed with Microsoft for attempting to include severely limiting DRM functionality in the Xbox One before backing off, and for requiring a regular check-in online to keep gaming.
Requiring Kinect be connected constantly was also a sticking point, and even though Microsoft eventually caved in to consumer demands, plenty of gamers were left wondering what they were thinking in the first place.
The first truly major thing that happened under Spencer was the decision to release a $400 Xbox One without the Kinect peripheral. That decision was received positively for the most part, but even with that, Microsoft seemed to be in a battle to regain the trust of its customers.
Today's media briefing at E3 will help tremendously. As said, there was just games on show. There was no time dedicated to showing us what Kinect can do now, or for any other hardware purposes. We didn't hear about new entertainment apps, or TV features or anything like that, we just saw plenty of gameplay and trailers.
Spencer also made the direction clear, he even referred to the
"new Xbox."
"We will continue to make Xbox for you,"
Spencer told the audience.
Of course, this is no magic bullet. There is still a long way to go for Xbox One, but it was refreshing to see Microsoft give its gamers what they want today, instead of telling them what they want.
NEWS FROM E3 2014
Xbox boss makes big step toward Xbox One recovery at E3
E3 2014: Halo: The Master Chief Collection coming to Xbox One, Halo 5: Guardians multiplayer beta this fall
E3 2014: Far Cry 4 opening minutes shows nutcase villain Pagan Min
E3 2014: Watch 'Rise of the Tomb Raider' announce trailer
E3 2014: Assassin's Creed: Unity 4 player co-op demo
E3 2014: Call of Duty: Advanced Warfare 'Induction' Gameplay Video
E3 2014: Dead Island 2 trailer is full of laughs and obscene horror
E3 2014: Battlefield Hardline beta available for PS4, PC now
GTA V headed to PS4, Xbox One and PC later this year
E3 2014: FIFA 15 launching September 23 for PC, Xbox One and PS4 (+video)
E3 2014: Tom Clancy's The Division gameplay demo
E3 2014: Watch reactions to 'The Evil Within'
E3 2014: The Order: 1886 full trailer shown at E3
E3 2014: Crackdown returns on Xbox One
E3 2014: Forza Horizon 2 trailer & Forza Motorsport 5 gets Nürburgring
E3 2014: The Witcher 3: Wild Hunt trailer
E3 2014: Fable Legends Gameplay Trailer
E3 2014: New Phantom Dust announced for Xbox One
E3: inFAMOUS First Light teaser trailer
E3 2014: The Crew 'Coast to Coast' trailer shown at E3
PlayStation 4 getting native YouTube app this year
'Destiny' beta headed to Sony PlayStation 4 on July 17th
Written by: James Delahunty @ 9 Jun 2014 19:36