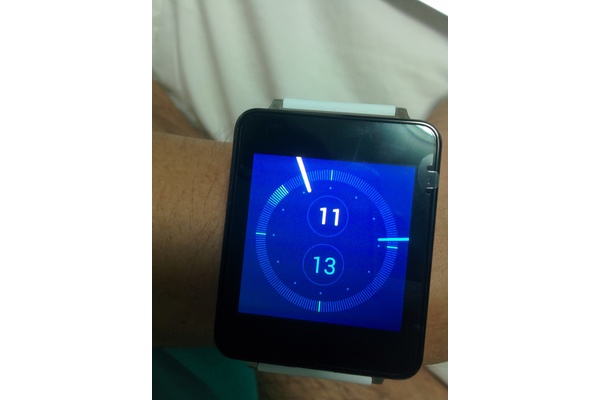 Android
Wear, the first true step into the future of smartwatches has arrived via the
LG
G Watch and the
Samsung
Gear Live.
Companies as small as Pebble and as large as Samsung have tried their hands at smartwatches but so far there have been no winners in the industry. Pebble with its Pebble Steel, is the clear style winner, but the device itself lacks application support and a capable touch screen.
Samsung has built a number of watches, but has even had to change the operating system used to Tizen from Android almost a year after launch. That is almost unheard of, and personified one of the biggest issues with smartwatches: a lack of an ecosystem that could support them.
Google saw the problem and beat
Apple
to the punch with the launch of Android Wear, which is clearly a 1.0 product, but a strong start with good developer support.
We've tested the LG G Watch for a couple of days now and you can read on for our thoughts on the first device to run Android Wear.
Specs, Display, Performance and Design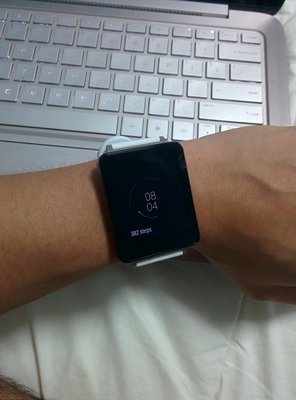 Although both Samsung and LG were the first to announce Android Wear devices, and both are available in the Google Play Device Store, LG's is shipping first to consumers and has a higher price tag.
The G Watch has a 1.65-inch IPS LCD with 280x280
resolution
, a 1.2Ghz dual-core Snapdragon 400 processor, 512MB
RAM
and a 400mAh battery. The watch also has 4GB internal storage, although that amount of space is certainly not necessary.
From a design standpoint, the watch has a square/rectangular form factor (just like many smartwatches before it), and offers a black face, metal accents and in my case, white bands. The bands are replaceable, should you have a preferred style at home. The device is IP67 certified, giving it some dust and water protection, especially if you're looking to shower without taking it off. The device is unfortunately not pretty, at least compared to the Pebble Steel and even the
Sony
Smartwatch 2, but I actually truly liked the white band look. It has a nice summer feel to it, but you cannot wear this device with a suit, and that's a shame. The watch also feels sturdy and it is comfortable to wear although it is somewhat large depending on your wrist size.
Despite a low-end processor, the performance is still strong for the device because really, there is not too much to power. Apps and cards loaded quickly, and voice commands were processed relatively easily and quickly. Swipes and gestures were easily recognized and without lag.
The display is nice, but could certainly be better, even for something as small as 1.65 inches. The low resolution means you can see some pixelation and the colors are muted and not as saturated as they can be. The whites are white, the darks are all too grey and the brightness is solid, especially if you are inside. If you are outside, it is harder to read, especially when in dimmed mode and this is a problem.
Overall, the LG G Watch offers a bland, rectangular design that feels sturdy and looks nice as a casual piece but not too much more. The performance is
snappy
and the display serves its purpose although the colors and especially dark colors could use some better saturation.
Battery Life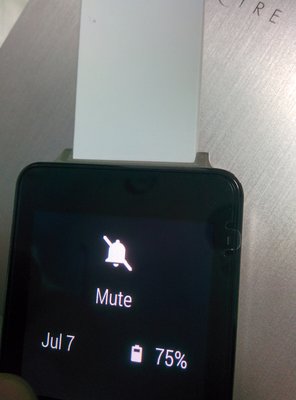 Battery life is a problem. The G Watch offered, at best 27 hours of life, meaning this is a device that you should be charging every night before bed, which is an annoyance. With more moderate use (texts and emails all day, as well as voice commands and searching for weather and stock quotes) took the life time back to 24 hours (including time I was asleep and the watch was being unused for the most part). The watch comes with its own proprietary cradle which includes a magnetic connector. The connector works great, and is an elegant solution since the watch does not really have enough room for a USB port without sacrificing space for other components.
An extension of battery life will come with future devices, of that I'm sure, but so far there has yet to be a watch that you can wear for days on end without worrying.
Android Wear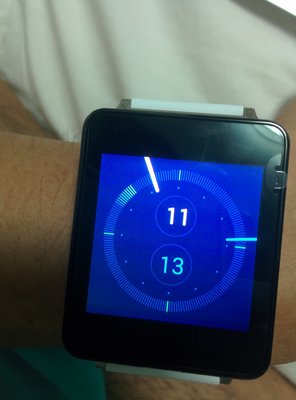 In all reality, the LG G Watch is just a vessel for Android Wear. Rather than creating (and wasting their time) on a watch ecosystem, Google has provided the foundation. This is clear from the announcement that Fossil is looking to create a luxury Android Wear model, given that Fossil has tons of experience in watches but little to none in software development or tech in general.
Android Wear, as stated previously, is brand new and it does not work as well as you would hope, but in the future it will. Just like Android itself has evolved to the most cohesive and innovative smartphone OS (sorry Apple, it's true), Android Wear will evolve over time, as long as demand stays strong for such wearable devices, which Google clearly believes it will.
What is Android Wear? Android Wear is an extension of Android, and I have found that it does let me keep my phone in my pocket more often, which in this day and age is a nice thing. The OS lets you see your emails, texts, social media notifications and calendar appointments right from your wrist, and even gives you the ability to write back through voice commands. You can change your music, you can use voice to take notes, you can answer/hang up phone calls and the watch does a have a rudimentary step
tracker
connected to Google's new Fit health platform. LG offers an excellent selection of watch faces, most of which are quite nice.
By swiping to the left, you can see what options you have for each notification (like replying to a text or seeing your last ten messages in a thread) and by swiping to the right you can send the notification away. Swiping to the left a second time will give you the option to "send to phone" in most situations which will just open the email, text, Facebook message etc. on your phone making it easier to access when you do take the phone out of your pocket. It's helpful, in some respects, but otherwise cumbersome and not as easy as just taking out your phone to do the same task.
Google Now, which is fantastic on your smartphone is also available on your wrist. Different cards will pop up randomly throughout the day, reflecting information about your portfolio of stocks, your upcoming flight (with a working boarding pass bar code) or hotel reservation or most helpful, the local weather and five day forecast. Google Now will also take information from your email and let you know when a package has been shipped and possibly the expected delivery date. Pulling up info from the tracking number will require a phone, however, just like most Android Wear features.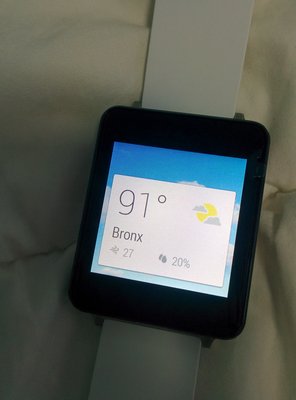 Voice search and voice commands are the bread and butter of Android Wear. By tapping anywhere on the clock or by saying "OK Google," you can start the search. You can ask Google to write a text for you and in all honesty, it works great. You can ask Google how many steps you've taken, and help you
map
out a route in Google Maps. These features are very cool, as long as you are okay with talking into your watch. You can also ask Google questions, and if Knowledge Graph has the answer it will show up but if not you will get links to Google's top searches and, you guessed it, the option to send it to your phone.
Third-party apps are also included in the notifications, but as of writing their uses are limited given that developers have only had limited time to work with the SDK. A few third-party apps that are promoted by Google include Lyft, Fancy, Eat24 and Pinterest but the list is small. This will grow significantly in the coming months. Android Wear also gives you the option to mute notifications and mute specific app notifications, but that is limited. If you are popular, expect your wrist to be notifying you of everything that comes into your inbox, whether you care or not.
In the company's ongoing effort to kill Android fragmentation, Google has blocked custom UIs with Wear, meaning if you are an
OEM
building hardware you will be playing by Google's rules. This is great, and should mean updates are available for your watch as quickly as they are released. One significant issue with this is the fact that you need Android
4.3
or newer on your phone to sync with the watch. This means only 26 percent of Android owners can even use Android Wear. Ouch.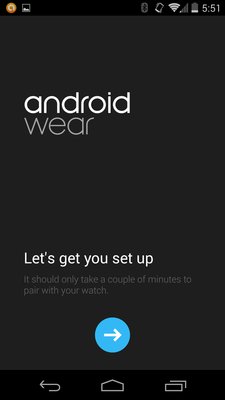 Conclusion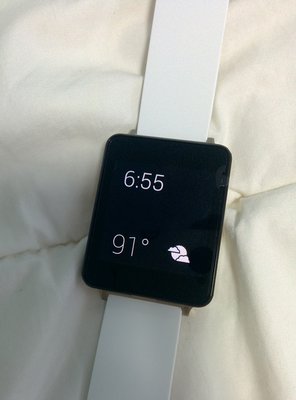 With Android Wear, getting started is not as easy you would hope. The watch even requires a tutorial and syncing requires the Android Wear app be installed on your device beforehand with Bluetooth enabled. This can be expected with a new operating system, even though it is coming from Google.
There are major problems with the G Watch and Android Wear, but this is a 1.0 version that will see significant updates into the future. Right now, the watch requires too much swiping to do anything special, and third-party app development is still in its infant stages. A watch that needs to be charged every night is not good, no matter what. The bland design of the G Watch leaves much to be desired, but the upcoming Moto 360 and the luxury Fossil watches should do plenty to make the watches usable when not in casual gear.
That being said, I have tested or owned most smartwatches to this point and the G Watch (Android Wear in general) is the first time I have been excited for the possibilities. The G Watch is a good start, but is for early adopters only at this point.
Specs 8/10
Design 6/10
Display 6/10
Battery Life 6/10
Performance 9/10
Software 6/10

Overall 6.8/10
Written by: Andre Yoskowitz @ 7 Jul 2014 23:38