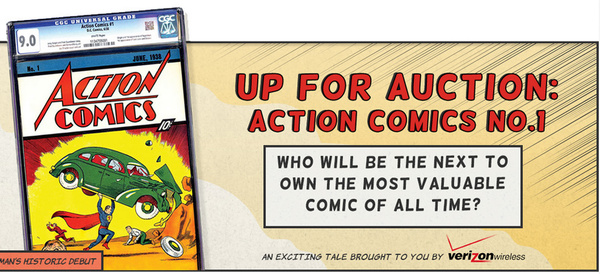 There is a new king of the comic book world, with a mint condition 1938 Action Comics No. 1 (Superman's debut)
selling for $3.207 million on eBay
.
The former champ was also an Action Comics No. 1, which sold for $2.16 million in 2011. The seller, Pristine Comics owner Darren Adams, put the comic up for sale with a minimum bid of $1 million, and any bidder required a pre-qualification.
"It's a historic moment that not only speaks to the greatness of Adams' Action Comics No. 1, but also the overall health of the comic book market,"
noted Harshen Patel, director of operations for the Certified Guaranty Company. CGC rated the comic 9.0 out of 10, the highest ever for a non-restored copy, due to its white pages and bright colors.
"You see it with collectors enjoying record sales, with the performance of Guardians of the Galaxy at the box office, and with the attendance at Wizard World Chicago Comic Con this past week. It's a dynamic time for the comic book industry and its future is very bright."
The book is said to look and feel as if it had just came off the newsstand in 1938, a very impressive feat.
Adams discusses how the comic stayed so perfect, and how he came to own it, here:
Written by: Andre Yoskowitz @ 27 Aug 2014 21:35