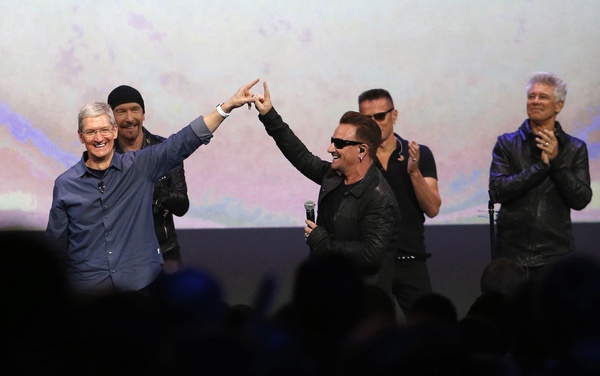 Earlier this week, when Apple announced its new iPhone 6, 6 Plus, Apple Watch and iOS 8, it made a less splashy but also significant announcement: It would be giving away U2's new 'Songs of Innocence" album, for free, to all iTunes users.
Over 500 million people have iTunes accounts, and U2 lead singer Bono joked around that Apple "would have to pay for it. Because we're not going in for the free music around here."
Apple is spending over $100 million to market the album, and paid U2 an undisclosed lump sum for the album itself, making it one of the biggest album launches of all-time. The company is integrating U2 into its new iPhone TV spots, billboards and more, thus helping themselves, as well.
The giant has over $160 billion in cash on hand (more than most countries), so the figure is a drop in the bucket but it certainly shows the power an A-list musician has and how little power the record industry has nowadays in a world where people will always prefer to consume their music for free.
Source:
Billboard
Written by: Andre Yoskowitz @ 15 Sep 2014 0:08