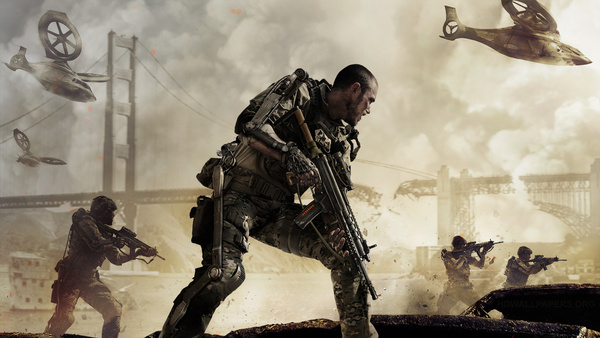 Activision has shown off the official launch trailer for the upcoming blockbuster smash "Call of Duty: Advanced Warfare," ahead of its global November 4th launch.
The game (via the launch post) "takes players to a future devastated by a global attack. Rising from the chaos is Atlas, a Private Military Corporation led by the cunning Jonathan Irons. With the most powerful military force in the world, Atlas has effectively become a superpower for hire. Playing as Jack Mitchell, suit up in an advanced exoskeleton and join a highly-trained unit committed to restoring order.
The exoskeleton carries over into Multiplayer, where an all-new movement system changes the way players traverse the terrain. Chain together boost actions like jump, dodge, and dash in a fast and fluid style of play. Equip all-new abilities and armaments in the revamped Create-a-Class. Earn additional weapons and gear through in-game Supply Drops, outfitting your operator in the deepest customization experience in franchise history."
In the trailer, you will also see your fair share of an evil but powerful looking Kevin Spacey.
Check out the trailer here:
Written by: Andre Yoskowitz @ 20 Oct 2014 21:50