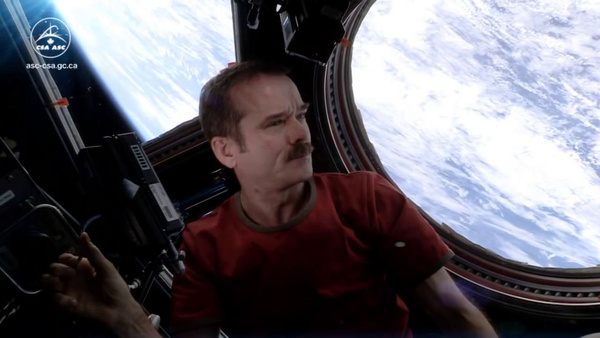 A music video recorded on the International Space Station (ISS) by retired Cdr Chris Hadfield has returned to YouTube, following the resolution of some copyright/legal issues.
It drew a very positive reaction from a global audience when it was uploaded to YouTube last year as Canadian Cdr Chris Hadfield was preparing to return to Earth from orbit after a six month stay on the International Space Station.
In his spare time, Hatfield recorded footage to be used in a music video of David Bowie's iconic Space Oddity. Under an agreement with Bowie and others, the video stayed on YouTube for a year before it had to be removed.
In that time, it received 23,489,187 views on YouTube, and had been reported across the web and replayed on TV all over the globe, pushing its exposure to hundreds of millions of people.
"The reasons we originally made the video were multifold. It was in response to repeated widespread requests via social media. It was a fun Saturday project with my son, Evan. It was a continuation of the other music that I was playing and recording while on ISS,"
writes Hadfield.
"But maybe most importantly, it was a chance to let people see where we truly are in space exploration. We're not just probing what lies beyond Earth – we inhabit it. For the past 14 years, humans have lived and worked aboard a research vessel orbiting our planet. It is science fiction come to life. Like at all initial outposts, we've brought our traditions and sensibilities and are applying and appreciating them in a new place."
As soon as the video was taken down, efforts were underway to restore it but it was a complicated process. At issue were questions about who owned the content, given that 15 countries built the ISS it was recorded on, and while recording the footage it had been orbiting the globe and passing above territory after territory, prompting questions of what copyright laws even applied. Additionally, which Space Agency owned the footage? On top of that, it must be remembered that Bowie and his publisher retained the intellectual property of the original Space Oddity.
For now, the video has been restored and will remain on YouTube for the next two years at least.
Written by: James Delahunty @ 5 Nov 2014 10:29