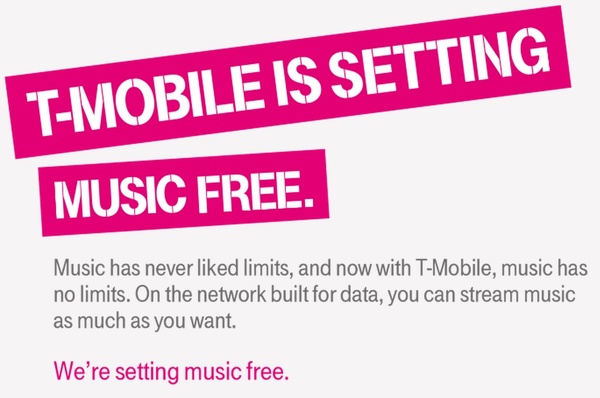 Earlier this year, T-Mobile made waves by announcing that its customer's data caps would no longer be affected by music streaming.
Unfortunately, the "Music Freedom" program only launched with a few services including Spotify, iTunes Radio, Pandora, Songza and Rdio and iHeartRadio (most of the biggies), and the carrier has now doubled the services that will be exempt from eating up your precious data.
T-Mobile has added Google Play Music (thankfully), Xbox Music, SoundCloud, RadioTunes, Live365, Mad Genius Radio, radioPup, radio.com, Fit Radio, Fresca Radio, JAZZRADIO, ROCKRADIO, and Saavn to the program, effective immediately.
To take advantage, you must be on the Simple Choice or Pay in Advance plans, and the carrier notes that it does not work when roaming or when using a Mobile Hotspot to tether.
Notably, Beats Music remains unavailable, although that seems to be mainly due to lack of a big enough subscriber base asking for it.
T-Mobile did add an interesting tidbit of info with the press release, stating:
"The number of T-Mobile customers streaming music each day has jumped nearly 300%, and they're streaming a whopping 66 million songs per day − or roughly 200 terabytes of data per day."
Source:
T-Mobile
Written by: Andre Yoskowitz @ 24 Nov 2014 14:09