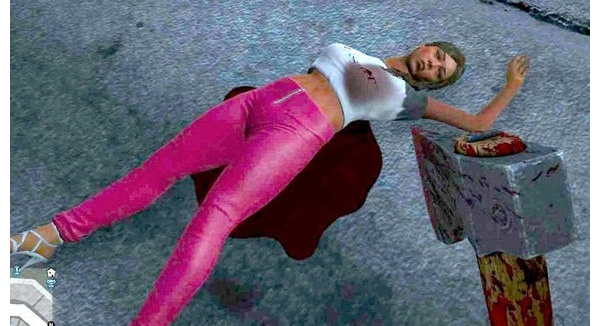 Complaints about depictions of violence against women has prompted Target Australia to remove copies of Grand Theft Auto V from shelves.
In a press release, Target General Manager of Corporate Affairs Jim Cooper said the decision to pull the critically-acclaimed title from its ~300 stores across Australia stemmed from extensive community and customer concerns over its content.
Ironically, just one day before releasing this statement, Cooper had told Australian press that Target was a "retailer for everyone," and cited feedback from customers wishing for the game to remain in Target stores.
The entire affair is linked to a Change.org petition which claimed that GTA V is a "game that encourages players to murder women for entertainment," and that "games like this are grooming yet another generation of boys to tolerate violence against women."
The petition received over 46,000 signatures. Take-Two has since responded to the decision from Target in a statement from chief executive Strauss Zelnick:
"We are disappointed that an Australian retailer has chosen no longer to sell Grand Theft Auto V--a title that has won extraordinary critical acclaim and has been enjoyed by tens of millions of consumers around the world. Grand Theft Auto V explores mature themes and content similar to those found in many other popular and groundbreaking entertainment properties. Interactive entertainment is today's most compelling art form and shares the same creative freedom as books, television, and movies. I stand behind our products, the people who create them, and the consumers who play them."
Does GTA V really "encourage" violence against women?
Target Australia will continue to sell other games with an R-18+ rating, as well as other forms of entertainment media rated for adults only. It is interesting to note that in Australia, video games that actually depict violence of a sexual nature will be refused classification, so the decision to rate the title R-18+ suggests that the review board didn't witness such sexual violence.
It also comes down to the open-world sandbox nature of Grand Theft Auto V; players could choose to intentionally target depictions of strippers or prostitutes in the game with violence, but it is not necessary for progression in the game. In fact, progressing through the game overwhelmingly requires violence against renders of male characters.
The Change.org petition was apparently started by survivors of violence, including the sex industry, and so it explains the focus on depictions of violence against women. However, for gamers who have played GTA V, it is a stretch to say that it encourages violence against women in the game specifically, and an even further stretch to extrapolate to real-world violence against women (or violence in general). Indeed, the claim that games like GTA V are "grooming yet another generation of boys to tolerate violence against women" makes a suggestion of a real world link between violence in video games, and real-world violence, without significant evidence of that being the case.
Target's decision has since been followed by KMart in Australia, but it is unlikely to hurt sales of the game, as Australians can still go to stores where video games are the core business to buy a copy. Jim Cooper did acknowledge in the Target media release that many of their customers are not supportive of their decision to stop selling the game, and said the retail chain respects their perspective on the issue too.
What do you think about Target Australia's decision?
Sources and Recommended Reading:
Target: Withdraw Grand Theft Auto 5 Petition: www.change.org
TARGET REMOVES GRAND THEFT AUTO 5 FROM SHELVES (PDF): www.target.com.au
Written by: James Delahunty @ 4 Dec 2014 11:18