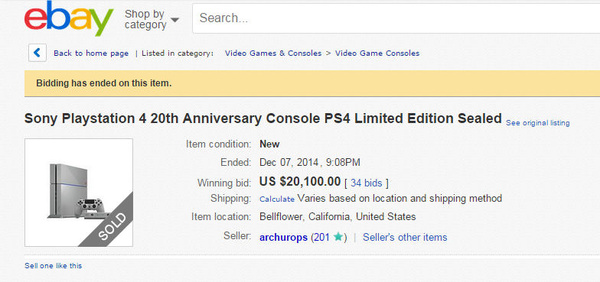 Having not even shipped yet, Sony's limited 20th anniversary grey PS4 consoles are being resold for thousands of dollars on eBay.
Sony sold 12,300 of the limited edition units for $499. Needless to say, they were sold out very quickly when they became available. Now the only way to get one in the United States is to attempt to buy it online, but you'll be shocked at just how much you are expected to pay.
There are many active listings for the limited consoles on eBay and they are finishing for quite a markup of ~300%. One particular listing from a seller in Bellflower
closed at $21,100
. Another from a New Jersey seller finished at $15,000, and the seller has since confirmed that the buyer paid in full.
The other listings are going for significantly less on eBay but there does appear to be quite a lot of sellers looking to make a very quick and juicy profit from the limited console.
Those who managed to pre-order the consoles from Sony can expect them to be shipped out on December 21 in the United States. Sony will also be selling the limited units in Europe and in Japan.
Written by: James Delahunty @ 8 Dec 2014 19:13