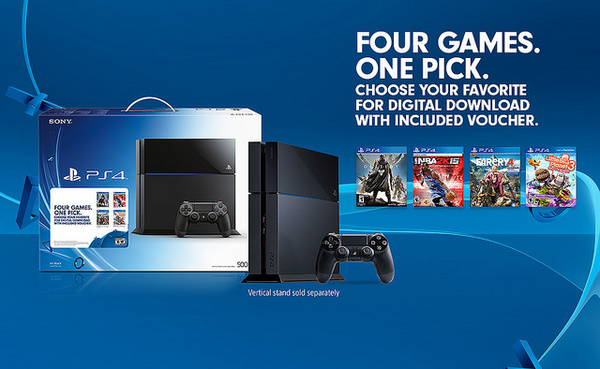 Sony has announced an interesting new concept to sell its PlayStation 4 console: a bundle where you get to pick which game you want.
Starting today, Sony is offering a 500GB PS4 with a digital download voucher that can be used for either Destiny, Far Cry 4, LittleBigPlanet 3, or NBA2K15.
Called the "Four Games. One Pick. PlayStation 4 Bundle," Sony is making the bundle available for $399.99, the normal price of the console without a game included.
Here are Sony's description of the games:
Destiny – The ultimate Destiny experience is on PS4, with exclusive content including an additional multiplayer map, Strike mission, an expanded repository of exotic weapons and gear, and player ships. Don't forget, the first Destiny expansion, The Dark Below, is coming out on Dec 9, and it includes exclusive content for PlayStation gamers: a new Strike, The Undying Mind, and an exotic shotgun, The 4th Horseman. Destiny Expansion I: The Dark Below will be available for $19.99.

Far Cry 4 – A game many are calling a contender for game of the year, Far Cry 4 will take you on a breathtaking adventure through the perilous and wild region of the Himalayas struggling under the regime of a despotic self-appointed king. PS4's exclusive "Keys to Kyrat" feature allows you to send up to 10 keys to your PSN friends, so they can join you in Kyrat for a two-hour online co-op session, even if they don't own a copy of the game.

NBA 2K15 – Featuring NBA MVP Kevin Durant on the cover, NBA 2K15 hits the court with unprecedented life-like graphics, ultra-realistic NBA gameplay, and more. PS4 owners will get an exclusive 10,000 VC Bonus, and PlayStation Plus members also get a MyTeam Card Pack.

Little Big Planet 3 – Join Sackboy and his new burlap gang in their newest adventure, and build new levels of your own using more than 70 brand new tools to create more expansive adventures.
Source:
Sony
Written by: Andre Yoskowitz @ 9 Dec 2014 0:00