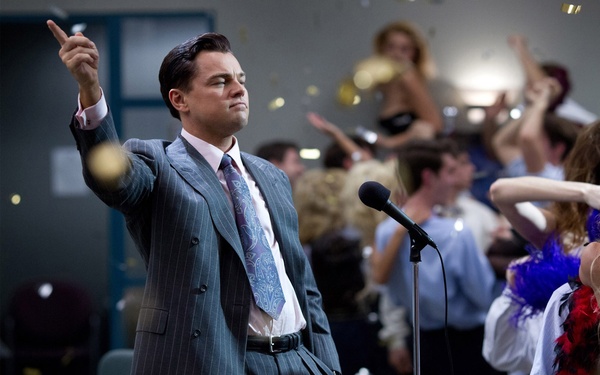 According to a new report, Martin Scorsese's blockbuster 'The Wolf of Wall Street' was the most pirated film of 2014.
The movie, which stars Leonardo DiCaprio playing real-life fraudster Jordan Belfort, was downloaded illegally over 30 million times, edging out Disney's billion dollar smash hit 'Frozen.' The figures come via piracy-tracking firm Excipio, who says the figures were much higher than in past years.
In third place was Robocop, although the figures include the original 1987 version and the 2014 reboot.
Full list:
The Wolf of Wall Street: 30.035 million (Paramount, Dec. 25, 2013)
Frozen: 29.919 million (Disney, Nov. 27, 2013)
RoboCop*: 29.879 million (MGM, Feb. 12, 2014; and Orion, July 17, 1987)
Gravity: 29.357 million (Warner Bros., Oct. 4, 2013)
The Hobbit: The Desolation of Smaug: 27.627 million (Warner Bros., Dec. 13, 2013)
Thor: The Dark World: 25.749 million (Disney/Marvel, Nov. 8, 2013)
Captain America: The Winter Soldier: 25.628 million (Disney/Marvel, April 4, 2014)
The Legend of Hercules: 25.137 million (Summit, Jan. 10, 2014)
X-Men: Days of Future Past: 24.380 million (20th Century Fox, May 23, 2014)
12 Years a Slave: 23.653 million (Fox Searchlight, Oct. 18, 2013)
The Hunger Games: Catching Fire: 23.543 million (Lionsgate, Nov. 22, 2013)
American Hustle: 23.143 million (Sony/Columbia, Dec. 13, 2013)
300: Rise of an Empire: 23.096 million (Warner Bros., March 7, 2014)
Transformers: Age of Extinction: 21.65 million (Paramount, June 27, 2014)
Godzilla: 20.956 million (Warner Bros., May 16, 2014)
Noah: 20.334 million (Paramount, March 28, 2014)
Divergent: 20.312 million (Lionsgate, March 21, 2014)
Edge of Tomorrow: 20.299 million (Warner Bros., June 6, 2014)
Captain Phillips: 19.817 million (Sony/Columbia, Oct. 11, 2013)
Lone Survivor: 19.130 million (Universal, Dec. 25, 2013)
Source:
Variety
Written by: Andre Yoskowitz @ 1 Jan 2015 14:35