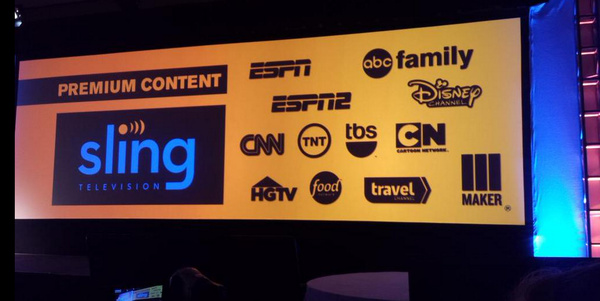 Major satellite provider Dish is planting the seeds to end conventional TV as we know it.
The new 'Sling TV'service will cost $20 per month, be available online, and include 10 popular channels: TNT, TBS, CNN, Food Network, HGTV, Cartoon Network, Adult Swim, the Disney Channel, ESPN, and ESPN2.
While in theory, the practically ala carte service is great for cord cutters, especially given the access to ESPN and big-time sports programming, but under the hood there are quite a few caveats, as well.
Only one person can watch Sling TV at any given time. You will need a streaming device and the Sling TV app to get the TV on your big screen. Roku will support it out of the box, Apple TV will not. Local broadcasting is missing such as NBC, CBS, FOX, and ABC.
At $20, the service is still expensive especially since most cord cutters will be paying $7.99 for Hulu, $7.99 for Netflix and whatever price the standalone HBO Go will cost, but the Sling TV is a right first step to unbundling expensive TV packages with hundreds of channels you don't care about.
Written by: Andre Yoskowitz @ 6 Jan 2015 19:32