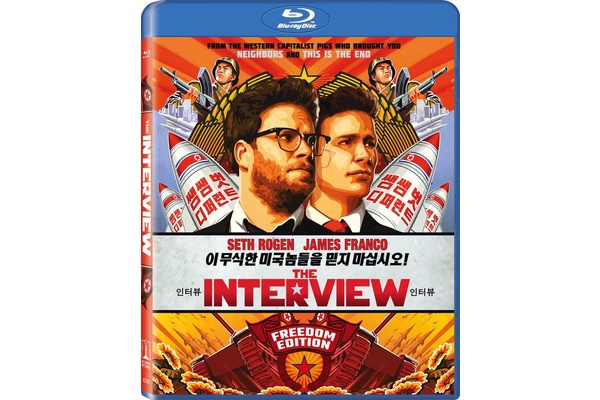 The now infamous Sony Pictures hit "The Interview" will be available on DVD and Blu-ray as a special "Freedom Edition" collectible disc on February 17th.
Starring James Franco and Seth Rogen, the comedy has the two recruited by the CIA with the mission to assassinate North Korean dictator Kim Jong-un.
Reads the
press release
:
The "Freedom Edition" Blu-ray disc comes packed with 90 minutes of bonus feature content, including 14 deleted scenes, multiple behind-the-scenes featurettes, a seven-minute blooper reel that shows the outrageous gags and goofs from the set, as well as three "line-o-ramas" (where cast shot several alternate takes of jokes during filming). Also included on both Blu-ray and DVD are The Discovery Channel

TV special "Naked and Afraid," starring James Franco and Seth Rogen, as well as commentary by Seth Rogen and Evan Goldberg.

DVD and Blu-ray Bonus Features Include:

"Naked and Afraid" – Discovery Channel TV special featuring Seth Rogen and James Franco
Feature Audio Commentary with Seth Rogen and Evan Goldberg
"Freedom Edition" Blu-ray Exclusive Bonus Features Also Include:

Gag Reel
Deleted, Extended and Alternate Scenes
Featurettes:
"Directors of This Movie" – Seth Rogen and Evan Goldberg comment on directing the film together
"Puppy Power" – Cast and Crew profess their love for the King Charles Spaniel puppy
"Here Kitty Kitty" – Seth Rogen breaks down the experience of working with a real tiger
"Joking Around" – The producers discuss the process of creating jokes on set
"Spies Among Us" – Hear from each of the cast members about their experience on the film
"Randall Park Audition Tape" – Randall Park table read audition video
"Dating a Dictator" – An authoritative touch on a convincing dating profile video
"Getting Into Character" – A look at Randall Park's transformation into looking the part of a dictator
Line-o-Ramas (short collections of alternate shots of jokes on set)
The movie dominated headlines in December after Sony Pictures was decimated by a cyber attack and the attackers threatened a terrorist attack on movie theaters leading the major U.S. chains
to suspend the release
. Sony then made film available online as a rental or purchase on Christmas,
where it became the top online film of all-time
.
Written by: Andre Yoskowitz @ 14 Jan 2015 23:19