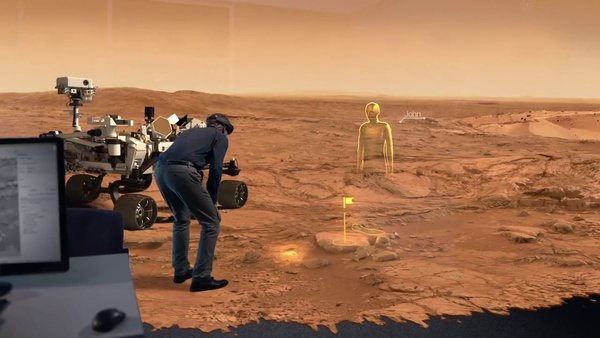 Walk on Mars? Microsoft showed off some promising and intriguing technology today in the form of Windows Holographic, and the HoloLens visor.
Microsoft wants to blend your digital world with the real world, using a visor called HoloLens with its new Windows Holographic technology. It promises to be able to give you access to your digital world in extremely useful ways without requiring a screen.
With Windows 10, Universal Apps can be used and interacted with as Holograms using the new system, making it possible to place 3D holograms in the world around you. Microsoft is providing a set of APIs for developers to take their apps into the "real world" too.
Microsoft HoloLens is the world's first "untethered holographic computer", according to the Redmond giant, requiring no wires, no phone to enable it and not even a connection to a PC. Using HoloLens, you can look at Holograms in the real world around you in 3D and even hear them in surround sound.
It is already being put to good use by NASA, which has revealed a collaboration with Microsoft on the development of software called OnSight. Working with HoloLens, NASA scientists can use data from the Curiosity Rover to virtually "walk" on Mars in the area surrounding the rover.
This allows scientists to examine the rover's worksite from a first-person perspective, plan new activities and preview the results of their work firsthand.
See more information on OnSight from
NASA.gov
.
Here's a video Microsoft has provided to demonstrate the promise of HoloLens.
Written by: James Delahunty @ 21 Jan 2015 19:29