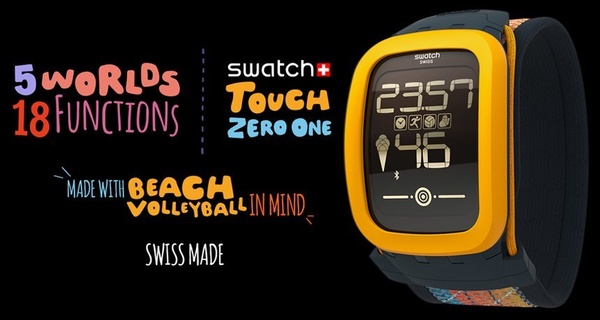 Popular Swiss watch maker Swatch has introduced its first smartwatch today: The Swatch Touch Zero One.
The company had announced last month that their first smartwatch was coming, but what we are seeing is different than what most expected. The watch is being marketed to beach volleyball players, and many of the features of the watch itself for created with volleyball in mind.
For your money, you get a curved touchscreen, built-in backlight, tap and swipe gesture controls and Beach Volleyball functions like a step counter, a "power hit" counter and "power clap" counter. The watch will be able to differentiate between attack hits, low hits, high hits and 'high fives.' The Power Hit counter will rate the hit on a scale of 1 to 100, with professionals likely to see 80s or higher.
The watch syncs with your Android and iOS phone, acting as a fitness tracker not unlike other watches and bands like the Fitbit.
Unlike other current smartwatches, the battery will last for "months," says the company. If accurate, that would be a huge selling point. Keep in mind that it is unclear whether the watch uses Bluetooth or NFC, and whether it can sync texts, phone calls and other notifications.
The device goes on sale soon for $159.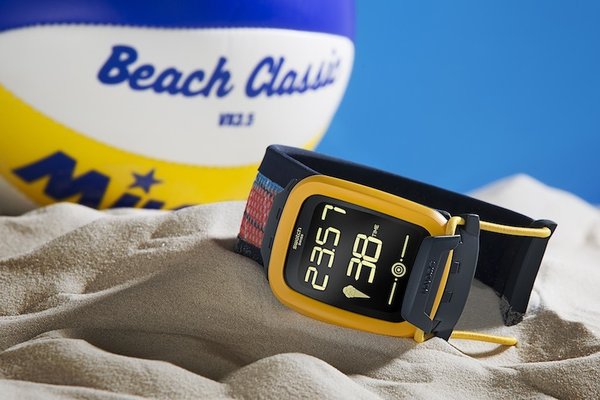 Source:
A Blog to Watch via Swatch
Written by: Andre Yoskowitz @ 28 Feb 2015 14:20