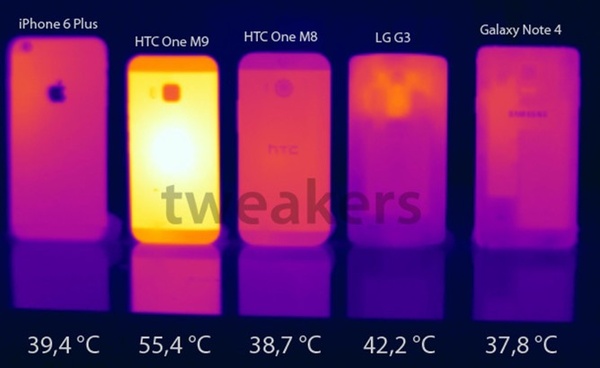 Over the past couple of months, there has been a persistent rumor that Qualcomm's Snapdragon 810 processor has a horrible overheating problem.
No company has openly confirmed the rumor, but Samsung did come pretty close when it ditched the processor for its upcoming Galaxy S6 flagship.
Tweakers.net put a few devices to the test with a thermal camera while they were running the intensive GFXBench benchmark application, and the HTC One M9, which is powered by the 810, saw temperatures as high as 55.4 degrees Celsius, a scorching 132 degrees Fahrenheit.
The other phones tested were all significantly cooler, all of which were around 40 degrees Celsius (about 104 degrees F).
At 132 degrees, the phone is certainly uncomfortable to hold, and could be dangerous if, for example, a battery catches on fire. By comparison, the site says a desktop GPU could run at 132 degrees when playing a high-end game, but those cards have better ways to dissipate heat.
Source:
Tweakers
Written by: Andre Yoskowitz @ 17 Mar 2015 20:05