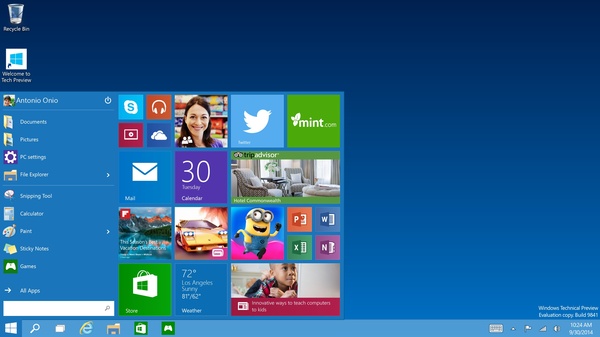 Yesterday, Windows VP Terry Myerson shocked the world when it announced
that even Chinese pirates of the operating system would get a free upgrade to Windows 10
when it launches over the summer.
Since the initial announcement, Microsoft's PR team has kicked into high gear, adding some caveats to the news.
First, the offer is actually good for everyone around the world, not just China, so every market of pirates can get on the upgrade to Windows 10. Secondly, and admittedly a bit more confusingly, Microsoft just said this, as well:
The consumer free upgrade offer for Windows 10 applies to qualified new and existing devices running Windows 7, Windows 8.1, and Windows Phone 8.1. Some editions are excluded from the consumer free upgrade--including Windows 7 Enterprise, Windows 8/8.1 Enterprise, and Windows RT/RT 8.1. Active Software Assurance customers in volume licensing have the benefit to upgrade to other Windows 10 enterprise offerings.

We have always been committed to ensuring that customers have the best Windows experience possible. With Windows 10, although non-Genuine PCs may be able to upgrade to Windows 10, the upgrade will not change the genuine state of the license. Non-Genuine Windows is not published by Microsoft. It is not properly licensed, or supported by Microsoft or a trusted partner. If a device was considered non-genuine or mislicensed prior to the upgrade, that device will continue to be considered non-genuine or mislicensed after the upgrade. According to industry experts, use of pirated software, including Non-Genuine Windows, results in a higher risk of malware, fraud (identity theft, credit card theft, etc), public exposure of your personal information, and a higher risk for poor performance or feature malfunctions.
The big question after that press release is what kind of problems will non-genuine Windows 10 owners have when they upgrade? Will they receive full updates and patches?
Written by: Andre Yoskowitz @ 20 Mar 2015 8:17