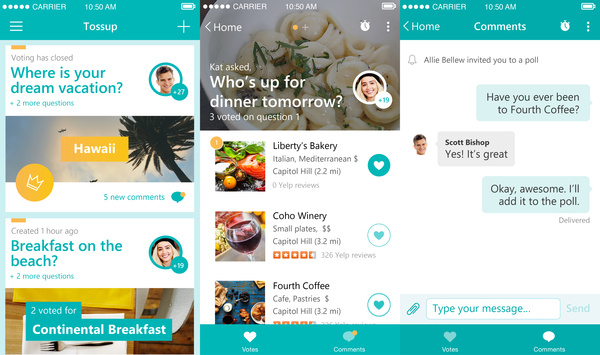 Microsoft has created an interesting new app this week, 'Tossup,' an app that promises to help you organize plans with friends and family easier than even Facebook.
"Aiming to advance Microsoft's mission of helping people achieve more in life and work, Tossup is a lightweight and fast mobile experience that helps groups plan and make decisions by giving them the ability to vote and suggest choices. It's an ideal tool to make decisions about timing, availability, what to do, nearby venues and spending limits. Information for restaurants is pulled from Bing – opening hours, reviews, addresses, etc. – to help make decisions. To get answers quickly, groups can add a countdown clock, then save the event to their calendars, turning those plans into reality,"
says Microsoft.
The software giant notes that Tossup extends beyond planning and allows you to ask just about anything.
"We're creating apps that make it easy and even fun to get more done, both at work and in your personal life,"
says Ashok Kuppusamy, a group program manager whose team is focused on building mobile apps.
"Take Tossup, for example. Everyone has been through the tedious experience of planning a get-together which results in long email threads or text messages that go on and on without any resolution. We've built an app that helps people in these everyday scenarios."
Tossup is available now on iPhone and Android in the U.S. and Canada.
Source:
Microsoft
Written by: Andre Yoskowitz @ 11 Jul 2015 16:32