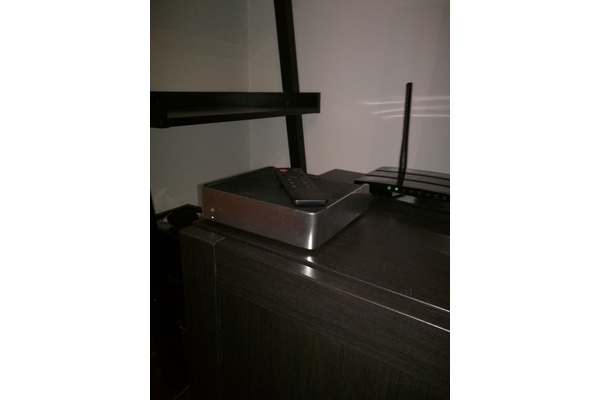 Update:
I have been in contact with the project's founder, Ashok, since I wrote this review. Despite the harsh words for the EzeeCube, Ashok has been gracious enough to provide assistance and updates to me on a weekly basis. I was recently sent an updated media center with the latest firmware to test, and I will be doing so this week.
Original Review
The EzeeCube, a crowdfunded Indiegogo darling, started shipping out to backers three weeks ago, a year after its campaign began.
So far, the experience has been a disaster.
As with all horror stories, it pays to start at the beginning. The campaign (and the set-top itself) started with a lot of promise. The Ezee Cube is a media center set-top box that allows you to sync to your mobile device and therefore keep all your pictures, music and movies stored safely on the device's 1 or 2TB HDD. The built-in software, based on Kodi (formerly XBMC), promised to keep everything tidy in your own media library. The campaign also promised the ability to add 100s of apps, from Hulu to YouTube.
Perhaps most notably, the Cube offers the ability to stack units to your set-top, such as a Blu-ray player, added HDDs and even a classic console emulator. Having a set-top box that could store 1TB worth of content in an XMBC media library, act as a home cloud for your family, DLNA support, and devices and possibly allow you to play Blu-rays and video games sounded like an incredible deal, and I was quick to back the campaign for $199 and the promise of a "Thanksgiving Day delivery." Yes, Thanksgiving 2014.
Waiting and Waiting and Waiting
From the time the campaign ended until Thanksgiving came around, there were plenty of updates to the campaign but none were too promising. The EzeeCube's creator, Ashok, appeared to be struggling in regards to the manufacturing but I gave it a pass because his idea was great and not all idea generators are brilliant businessmen.
Thanksgiving came and went without any EzeeCube. There were promises made that progress was moving swiftly and backers that had paid for the "Christmas Day Delivery" model thought there may be a chance to give out some Cubes for the holidays. Christmas and New Years passed with no delivery. "But it's such a great idea, I have to hold out!" I thought at the time.
March comes around and an email hits my inbox that if we had received the shipping confirmation email along with the promise of a new remote control that will be added to the package free of charge. I, like many others had not received the shipping confirmation email and I had to message Ashok directly who sent me the link and also tried to apologize for the delay, although not really. In June, I received a package in the mail from EzeeCube, and about 5 days later receieved an email that said the EzeeCube would begin shipping. Funny.
The Ezee Experience
I will say, before we continue, that the actual hardware was more impressive than I expected but that isn't saying much. The set-top looks pretty nice, has a plethora of connectivity options and it doesn't look like it will fall apart when you touch it. That's where the niceties end.
You turn on the EzeeCube and are greeted with a nice looking setup page. Please download the iOS or Android app and follow the on-screen instructions. Okay, no problem. Except there is a problem. The app setup crashes everytime. No. Matter. What. I am running a Nexus 6 with Android 5.1 so that could be the problem right? Maybe Ashok hasn't coded the app properly for the latest Android? So I try with my iPad Mini. The setup actually completes after crashing twice but we are finally in! Let's try out the interface. Oh no, using the app as a controller no only crashes the app, but the EzeeCube itself, which does not seem to know what is going on. Okay, no problem, they sent a physical remote control right? On to the hardware remote and we are back in business. I can actually check out the interface at a mind numbingly slow pace since it's lagging every second. At this point, I can use none of the "Ezee" features since my apps don't work properly and they certainly aren't syncing anything. I head over to the add-on section to see what kind of apps I can download. For some odd reason, Flickr and 9Gag are pre-installed and no Hulu as promised. I try to download a file manager and a media player for offline content. Both download (after a few tries) and then immediately get errors when trying to load. Well maybe there's some kind of Ezee built-in media player or file manager? Nope. I plug in an external HDD to see if I can transfer my pictures or movies that way. Nope, doesn't see it, or if it does I can't access it. I try plugging in a USB drive. Same.
An update message shows up on the home page. Well maybe this will fix some alpha software issues. Nope. Update crashes when trying to install and then the message disappears. Trying to access it again through settings leads nowhere. Also, my 1TB HDD is already showing up as 0.89TB of available space. What could possibly be taking up 111GB of space on the set-top I will never know. If you are keeping tally, so far, after three weeks, NOTHING Ezee works. Ashok sent out an email this weekend that the app will be updated soon and will no longer crash. When I get said update I can try again, but who knows when? As of writing, the Android app has a 1.4 star score, thanks to a generous friend overseas who gave it a 3.
Silver Lining
Not all is lost, however. If you have knowledge of XBMC (now Kodi), the device actually works as a serviceable Kodi box thanks to relatively strong specs. You'll need to get the Yatse app (still the best around), since the EzeeSync app doesn't work. Change the display settings from Ezee skin over to Confluence (the default Kodi skin) and you will get a more familiar feel. Strangely, the Confluence skin DOES have a file manager and can read off external drives. Basically, everything you should be able to do "Ezee," you can do with the standard Kodi interface minus the easy sync. That being said, you lose some important options when you switch to Kodi, like the ability to actually turn off your set-top. The controller simply doesn't turn off the set-top. Additionally, the scaling for the interface is a bit off and does not fit the screen 100 percent properly. At least I can actually use my $200 paperweight when in Kodi.
In conclusion, I am in shock that the EzeeCube is now up for sale at a retail price of $299 for the base 1TB model and I hope that any would-be buyer reads this review and promptly closes out their browser and clears the history of any reference to EzeeCube. It is one thing to deliver a product that is in pre-alpha if you've told your consumers it is an alpha product. It is quite another to promise a final product with pretty screenshots and under-deliver, especially 9 months after it was originally scheduled for delivery. Maybe in the future, after a few updates, the EzeeCube may actually be "ezee" to use, and I look forward to that day. For now though, the EzeeCube is a very hard sell.
Here are a few pictures of the EzeeCube, and ignore the April date in one of them. Could not get the date to update without the system crashing. Shucks.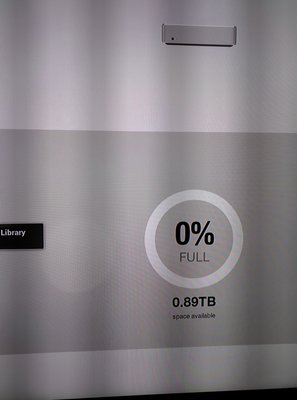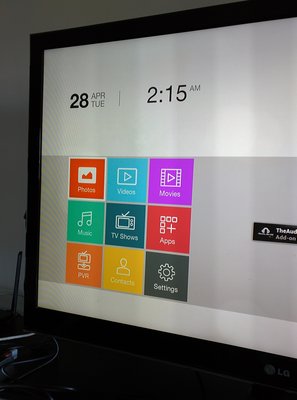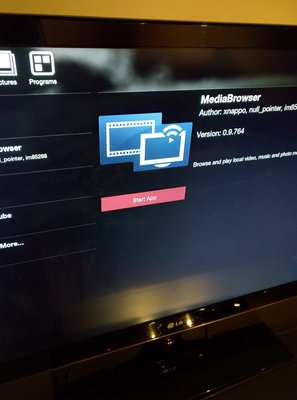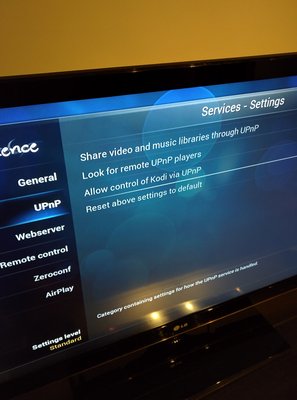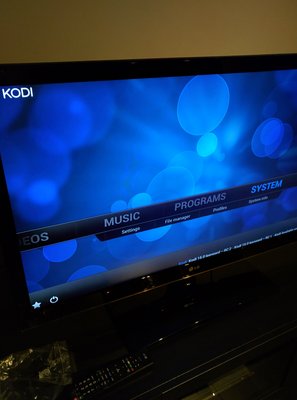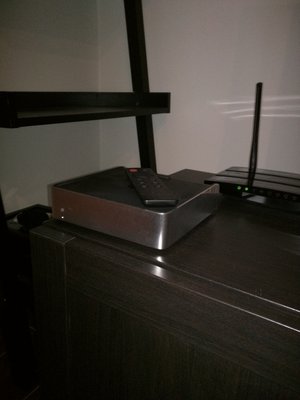 Written by: Andre Yoskowitz @ 11 Jul 2015 22:51