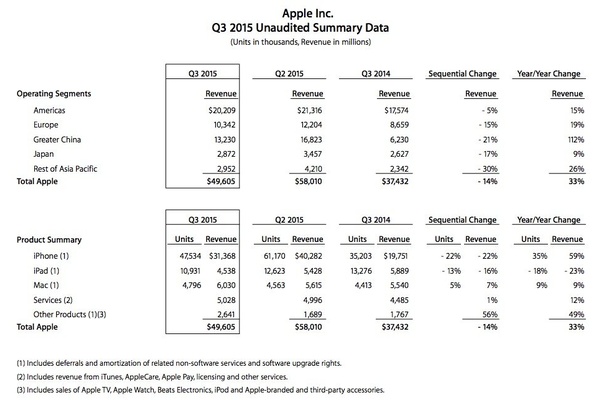 Apple shares are down a whopping 7 percent today following an earnings report that disappointed investors.
Overall revenue was up 33 percent year-over-year to $49.6 billion and profits increased 45 percent year-over-year to $10.7 billion.
Surprisingly, iPhone sales were a bit soft, at 47.5 million compared to analyst expectations of 48.8-50 million, which is part of the reason why the stock is getting killed. iPads continued their decline, down 18 percent year-over-year to 10.9 million units sold. Macs were slightly lower than expectations, as well, at 4.8 million units sold compared to 4.9 million analyst expectations.
The big hit came when Apple had to forecast their revenue for next quarter. Analysts were expecting $51 billion or higher but Apple guided a range of $49 billion to $51 billion, a rare pessimistic forecast for the tech giant.
Source:
Apple
Written by: Andre Yoskowitz @ 21 Jul 2015 21:31